School Road Safety Campaign - Alert Today Alive Tomorrow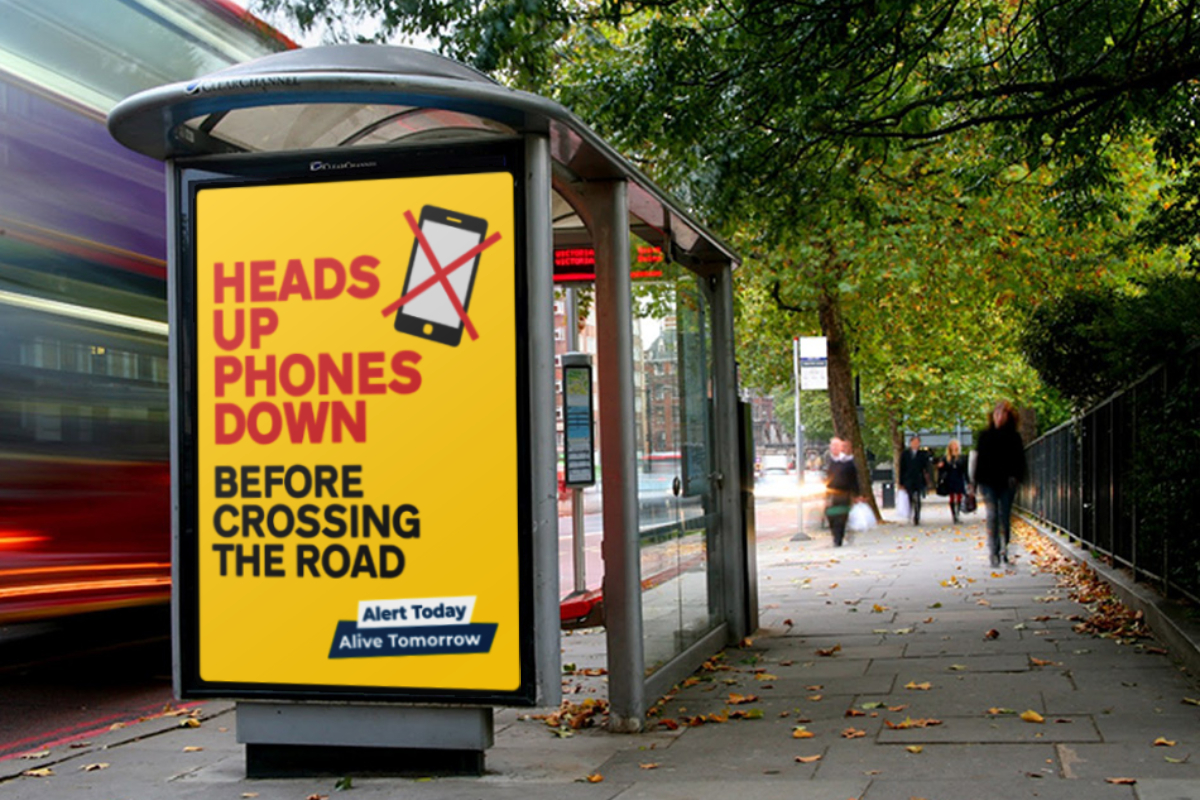 School road safety awareness campaign, centered around a series of messages and graphics to remind students to be alert to their surroundings when close to roads and vehicles- especially when using a mobile phone.
Students hit in a string of road accidents
After a series of road accidents involving vehicles striking pupils outside or close to schools officials started to look at the reasons behind the incidents. It was quickly noted that in every one of the recent incidents neither excessive vehicle speed or poor driving were to be blamed.
In all cases students had inadvertently put themselves in the path of danger, walking into the roadway without paying attention. When questioned, students' thoughts had been elsewhere and in many cases they were preoccupied by their mobile phones.
Using a mobile while walking down the street is a challenge for most adults, but reports reveal that children may be even more at risk from life-threatening distractions. Most concerning is that RoSPA's findings state that 'every month 1,200 children are injured in traffic related collisions that happen within 500m of a school', while that number includes all causes it is becoming clear that the dangers presented due to using a mobile phone while walking close to a road are on the increase.
Mobile phone use and road safety near schools
Most road safety campaigns are aimed at driver awareness, vehicle speed or pedestrian attention. Little was being done to tackle the specific dangers of students distracted by their mobile phones. It was time to take action and commission some creative thinking.
Discussions were held and a creative brief agreed. Students were put centre stage and focus groups set the task of looking at the issues and the foundations of the Alert Today Alive Tomorrow campaign was born.

Alert Today Alive Tomorrow - a new campaign
The Alert Today Alive Tomorrow campaign aims to tackle the problem by making students aware of their surroundings and to be mindful of the distraction that their phones can be.
Alert Today Alive Tomorrow is a multi level campaign. It's presented in group assemblies, discussed with students in the classroom and taken outside the school gates for a real-world look at what it means to be alert and to understand why it's important.
School road safety campaign creative
The campaign was launched with a typographic identity and supported with a series of short headlines with simple graphics that quickly announces the Alert Today Alive Tomorrow message.

The campaign runs on signposts and advertising billboards outside schools. It's also repeated on external floor graphics in the peripheral vision of mobile phone users close to roadways. Additional supporting materials are used inside school in the form of flyers, posters and more widely on social media and website.
Alert Today Alive Tomorrow - School road safety resource packs
School resource packs are available. Containing; staff and student guidance, external signs, floor graphics, posters, flyers; and sets of digital and social assets.
More information
If your school is interested in the Alert Today Alive Tomorrow campaign please get in touch by calling us on 01634 818168.
RoSPA - School Site Road Safety
You can read the RoSPA 'School Site Road Safety' guide HERE.
---
More school graphics and school signage…
Vacancy: Apprentice Creative Content Assistant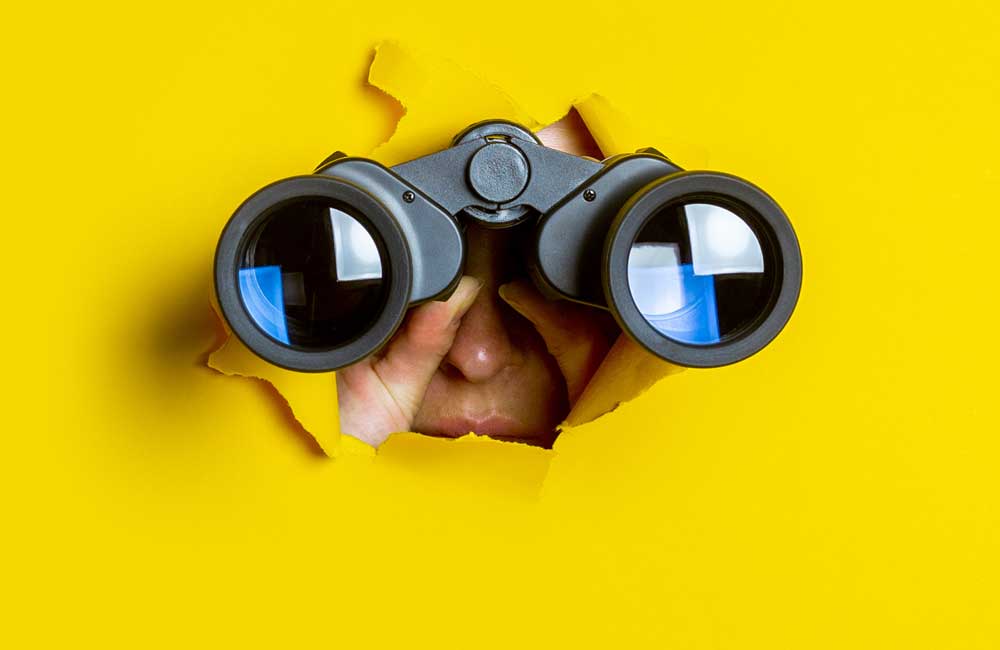 We're looking for Apprentice Creative Content Assistant to join our team, could that be you?
You will work with us for local, national and international clients – you'll be responsible for researching, developing and creating content that can be used across a variety of media including online, social media, video and in print.
We want your enthusiasm
We'll enjoy your fresh ideas and enthusiasm and you'll get all round experience to build your prospects.
You'll be confident, articulate with strong communication skills and an eye for detail.
What will I do as an Apprentice Creative Content Assistant?
Day to day you'll be working as part of our team working closely with our clients and the role will call on you to grow your skills over many areas to including:
• Understand client briefs
• Research and propose new ideas
• Create written and graphic content
• Optimise web content for SEO
• Plan and implement social media strategies
• Developing brand awareness
• Have good technical understanding and the ability to pick up new skills and platforms
• Perform general office based duties
This is an ideal opportunity for a junior who wants to start a career in the creative sector.
Is there anything I need to know?
• You'll need both Maths and English GCSE at grade 5 or above.
• This apprenticeship duration is 18 months. It could lead to a full-time role.
• The successful applicant will complete a Level 2/3 Apprenticeship qualification alongside employment.
What a great opportunity, how do I apply?
If you want to be a hands-on creative apprentice tell us why at apprentice@ryedesign.co.uk
Online ordering systems built in hours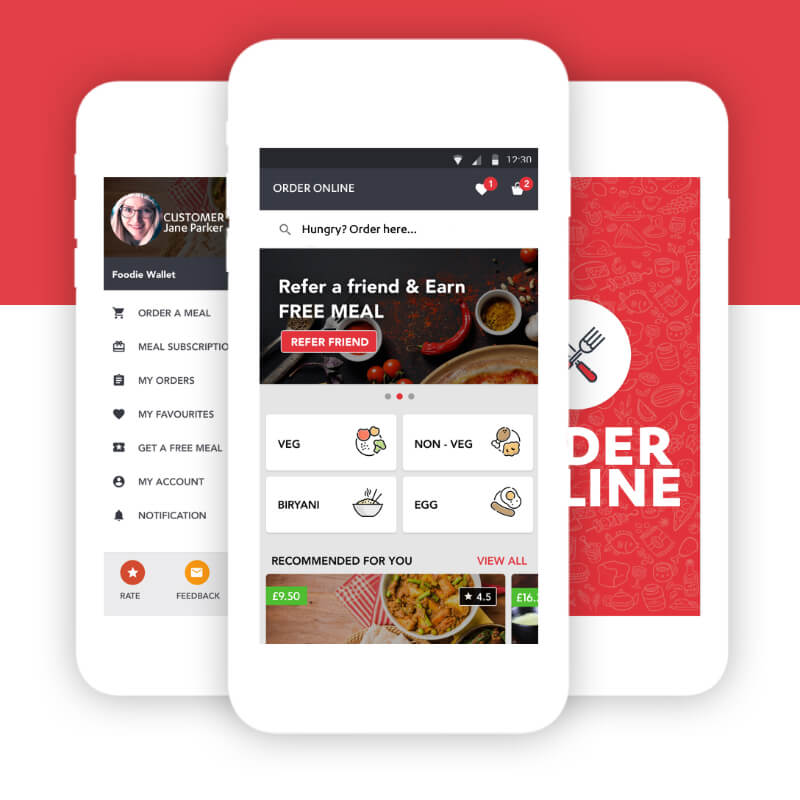 If your business needs to sell online we can help you get up and running quickly and smoothly - often with your business ready to take orders within hours.
Sell online within hours
If your business needs to sell online we can help you get up and running quickly and smoothly - often with your business ready to take orders within hours.
Working with your existing systems
Our online order systems can work alongside your existing website or social media and offers your customers a safe, secure and friendly place to purchase.
Enhanced SEO and analytics
With our automated Search Engine Optimisation you'll get good search results in Google, right in front of your customers.
While our built in analytics can offer realtime user statistics and data that will help put you in control.
Secure websites and shopping
We secure all our websites with SSL certificates enabling secure transactions giving your customers peace of mind.
Social integration and mobile ready!
You'll easily add social media followers and boost your reputation with our social media cross posting.
All our sites are mobile ready making browsing a breeze on the go.
UK based design and development
Our UK based team will support your business to help you process online sales and offer tailored solutions ideal for restaurants or cafes, and of course shops and warehouses.
Website design for local businesses and SMEs
We design websites for small business and startups to help market their products and services. Our small business websites will help to establish credability, drive enquiries and engage with new customers. Click here.
Contact us
If you would like to find out more call 01634 818168 or email mail@ryedesign.co.uk.
Creative and website design support continues during the Coronavirus COVID-19 crisis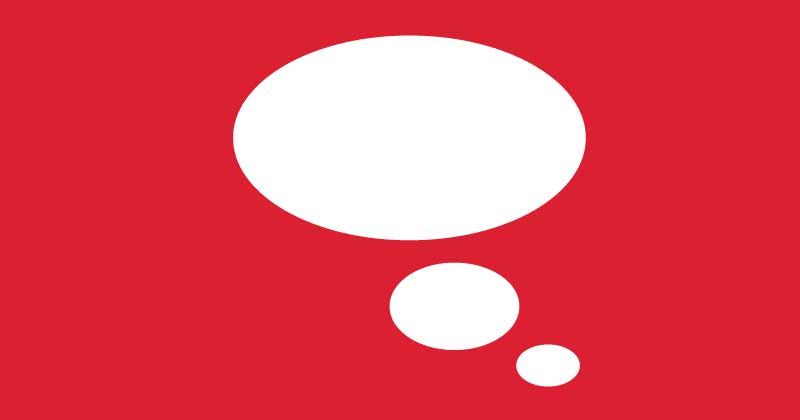 We're taking precautions, but we are still open for business. Nothing is more important to us at Rye Design during this period than the health and well-being of our customers, colleagues and the wider population.
Government advice
We are following advice given to businesses by HM Government Public Health England (PHE) and, as the situation stands, we will continue to provide our services to our customers, both existing and new.
Creative services during Coronavirus
Our creative services for marketing communications and of course website design and development continue uninterrupted. Alongside the printing and production of materials are currently continuing as normal.
Deliveries
We are in regular contact with our shipping partners in order to be able to guarantee you reliable deliveries both now and in the future. Our partners delivery representatives will also be following advice and guidelines regarding reduced contact with recipients and will be recording deliveries on your behalf.
We are still shipping materials across the UK and the EU.
Precautions being taken at Rye Design
To minimise risk to staff and customers we are taking the following precautions:
Our office is OPEN - but with social distancing in place.
Where possible, please contact us with enquires by email or phone.
We are taking extra precautions with the cleanliness of our office, studio and meeting rooms.
We're taking social distanced meetings and following guidelines.
Please contact us if you plan to visit our office. If you are feeling unwell delay visiting until you are better.
Providing a normal service
What are we doing to ensure we can continue to deliver a normal service?
We have secure, remote access to our customer order information so we can fully support our clients as normal from any location.
We are currently receiving a normal service from our couriers.
The Government's advice is continuing to evolve on a day-by-day basis, and we will provide further updates via email and blog.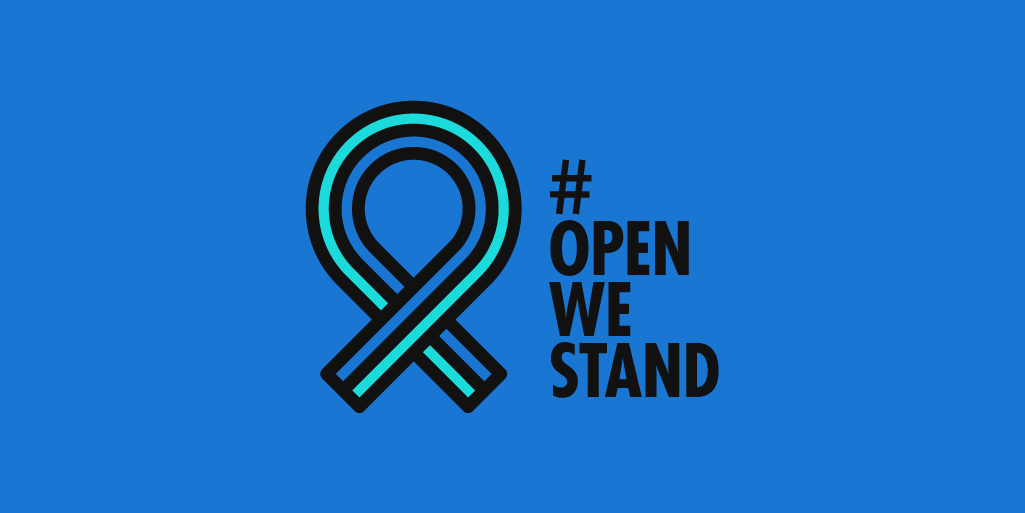 #OpenWeStand
We're supporting the #OpenWeStand initiative set up by GoDaddy that is for anyone who is keeping the economic health of small business top of mind in this challenging time. It's for entrepreneurs, creatives and shop owners minding their customers' and employees' safety — and for everyone who stands with small business.
It's a growing collection of resources, inspiration and connection to other everyday entrepreneurs with creative solutions to keep their business open, even if their doors are closed due to COVID-19.
Call or email us
If you have any questions, please get in touch by calling the office on 01634 818168 or email mail@ryedesign.co.uk.
LINKS
Public Health England (PHE) advice on Coronavirus.
OpenWeStand
3D wall letters at Wye School near Ashford, Kent
"One child, one teacher, one book, one pen can change the world." Malala Yousafzai's simple, yet strong message takes a prominent position in a 3D graphic installation at Wye School in Kent.
Wye School near Ashford in Kent
Wye School is a secondary school in an envious setting in the Kent countryside in contemporary buildings. Our work looks at bringing some graphic character and to the schools communal areas.
3D graphic installations
Our 3D wall mounted bespoke lettering always makes a good impression and can be made to fit both large and small spaces.
We produce letters and logos in a variety of colours, sizes and materials and can fix directly onto any surface, inside or outside. Our designs are created to match the fonts, logos and styles from your organisations' brand guidelines.
Playing with light and shadows
The installation shown here at Wye School sits on a 12m wide wall and the cap height of the letters is half a metre. Each letter within the installation is painted the same white as the wall on which it sits leaving the depth of the characters to create a 'moving' shadow that changes throughout the day.
Short lead time
With only a couple of weeks lead time between the client creative meeting and the opening ceremony for the schools' new building we rose to the challenge and completed this school graphics installation just in time.
Design for schools and the education sector
Read about how we create messaging, graphics and design websites for schools and trusts – HERE.
Malala Yousafzai
Malala Yousafzai is a Pakistani activist for female education - she grew up in an area where the local Taliban occupation had at times banned girls from attending school. Malala wrote a blog for the BBC under a pseudonym detailing her life during the occupation and was shot by a Taliban gunman in an assassination attempt in retaliation.
After recovering Yousafzai became a prominent activist for the right to education and was awarded the 2014 Nobel Peace Prize - becoming the youngest ever Nobel Prize laureate. You can read more about Malala's story HERE.
More school graphics and school signs
Protecting your brand with Trade Mark registration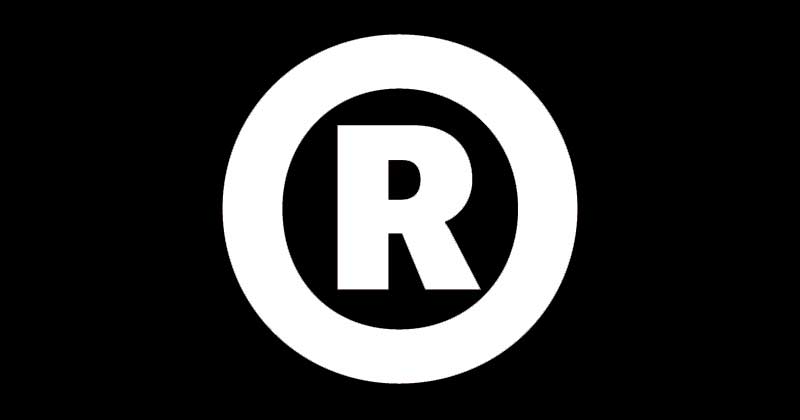 Trade mark protection provides you or your company with the legal right to prevent others from using your brand names and logos.
Why should I protect my brand?
Trade mark protection will provide you or your company with the legal right to prevent others from using or copying your brand names and logos.
It also shows you take your brand seriously and understand its value as a company asset that can grow in value significantly.
What can be trade marked?
A phrase, word, symbol, device, or even a colour, or a combination of these, can be eligible for trade mark protection.
Can I protect my brand in the UK?
Yes. We regularly help clients protect their brands and logos with trade mark protection.
How much does it cost?
Our costs start from £320.00* for a single trade mark application and registration.
Call us on +44 1634 818168 and find out how we'll advise you and guide you through the process.
How long does the process take?
In the UK we usually allow 4 months to complete a trade mark application.
What does the trade mark application process involve?
Trade Mark Research
The first step is a search of existing and pending trade marks to check for similar or identical marks for the same or similar goods and services in the registered database.
The Application
If there are no entries in the database an application is made for your brand against the goods and/or services for which the mark is to be used for.
Acceptance Period
The initial acceptance is a detailed examination of the application made by a trade mark examiner he/she checks the database and the application to ascertain if it is suitable for submission. In the event of an application being deemed not acceptable we are given one month to remedy.
Observation Period
Once a trade mark application has been accepted it is advertised by the Intellectual Property Office in their on-line journal. There is then then a 2 month period (which can be extended to three months) in which other parties may oppose its registration and/or make 'third party observations'.
A third party observation itself is not a formal legal action, and the Intellectual Property Office are not bound to act on them, but they may rely on evidence given in an observation to support any later objection to the application.
I've got a trade mark - can I use the ® mark?
Once an application has been granted the ® mark can be used next to the protected words or graphic to show that it is protected, although there's no legal requirement to use it. Remember the ® mark is only valid in the regions you have protection.
How long does trade mark protection last?
In the UK trade mark protection lasts for 10 years but can be renewed indefinitely.
Can I protect my brand in other countries?
You can apply for trade mark protection in 113 countries! Most UK based companies register within the UK and often the EU. For those with further international interests the USA is added to the list often along with Australia and China amongst others.
Like the UK, both US and EU trade mark protection lasts for 10 years but can be renewed.
What about world wide trade mark protection?
To make international protection easier 'The Madrid System' was developed as solution for registering and managing trademarks worldwide where applicants can submit one application to protect their work within a coalition of countries. But not all countries are covered, Saudi Arabia and South Africa for instance are not on the list.
How can I find out more?
Call our office on +44 1634 818168 and we'll help you protect your brand.
Do you need a new logo or brand?
Call us or complete our contact form and we'll get in-touch.
*Our trade mark application and registration fees start from £320.00 for an application for 1 mark under 1 class with registration in the UK, this is, where applicable, subject to VAT. Applications and registrations for a series of trade marks, and/or those requiring registration under more than one class, and/or that requiring registration outside the UK will be charged according to requirements.
Brochure design for a Kent based care equipment company that helps change lives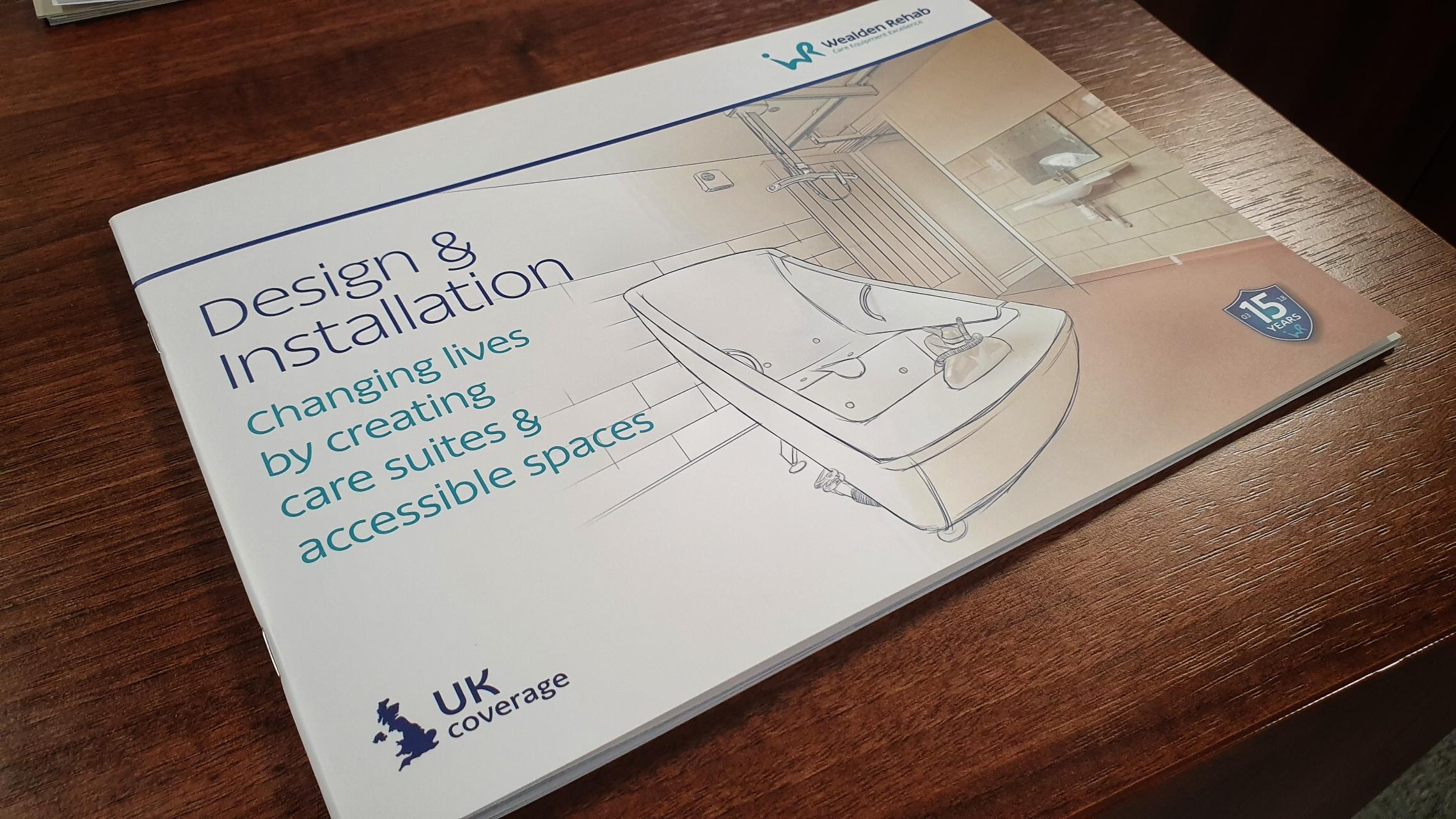 A new brochure design that is helping to boosting creditability with prospective clients for Wealden Rehab, a care equipment company based in Chatham, Kent.
Wealden Rehab
Wealden Rehab provides specialist solutions to care organisations across the UK from their base in Chatham, Kent.
As part of their work they help surveyors, architects and contractors understand what's required to make the most of a space, from lighting to furniture, to toilet seats and to hand dryers.
New brochure design
This new brochure design showcases the scope of their projects – it works as a printed sales and marketing tool, boosting creditability with prospective clients.
On brand brochure design
The brochure has been designed by incorporating the companys' existing visual styling, colour palette and typography, to continue to build the Wealden Rehab brand identity.
Corporate identity and branding
Read more about our corporate identity and branding work HERE.
Graphic design & brochure design in Kent
We work on creative projects across Kent. We work in partnership with businesses and people that value bespoke solutions, creating engaging messaging and visuals across websites and marketing literature. Everything we design, from a business card to an advertising campaign will help establish a clear identity and build a strong brand style.
Corporate website design for a boutique financial services solutions provider wins them new business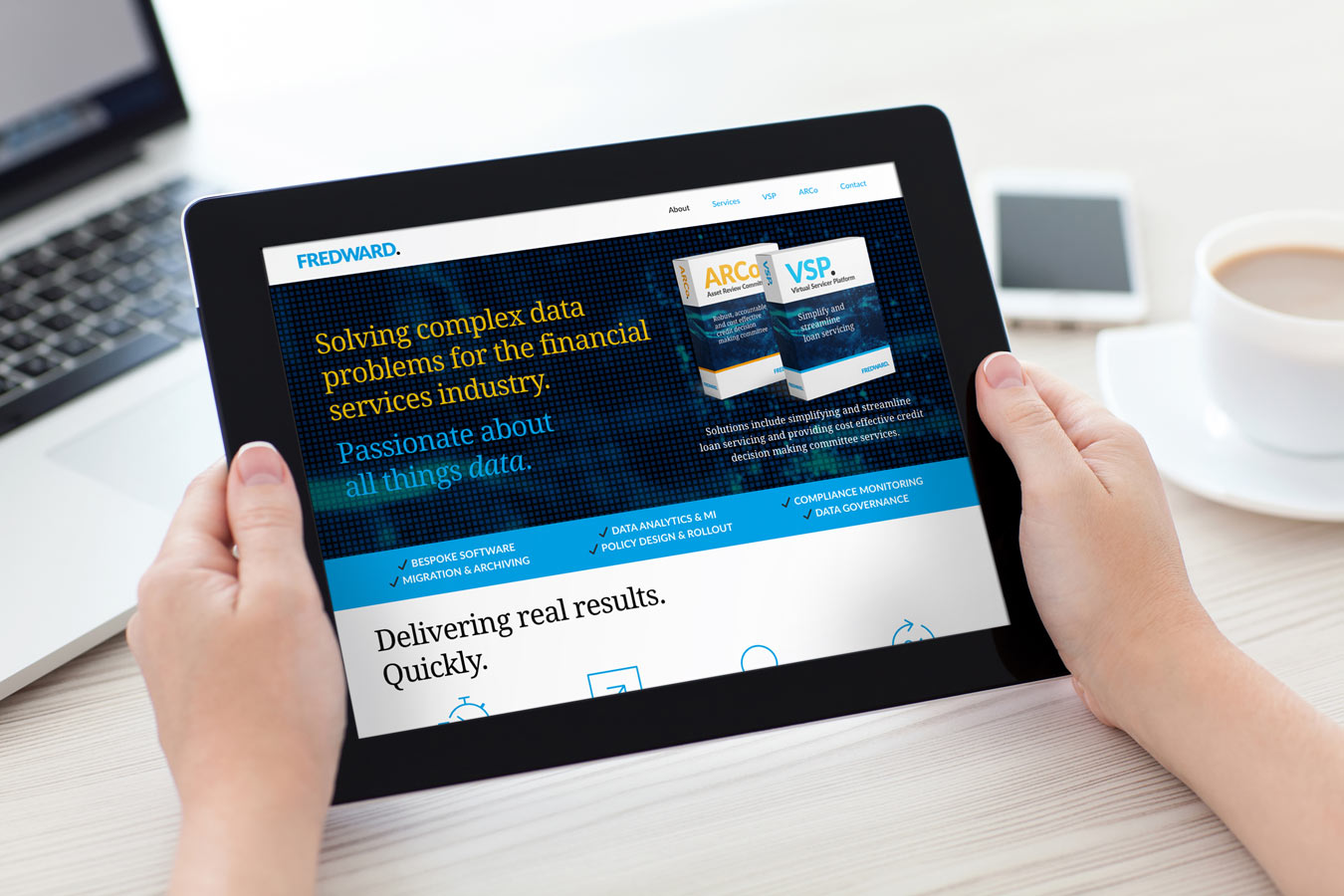 A new brand and corporate website design for Fredward, a boutique solutions provider to the financial services industry in the City of London immediately helps bring in new work
Fredward
Fredward is a boutique provider of solutions for the financial services industry.
They build bespoke software solutions across a variety of platforms and offer data handling, analytics and insight coupled with process automation that saves time and money for their clients.
Creating a brand identity
The Fredward identity was designed and developed to be fresh and contemporary.
Set in a bold modernist typeface and coloured cyan with a simple yet contrasting black full point that makes a subtle reference to both all things data and financial accounting.
Fredward build their client base through word of mouth and client tenders, and of course often work under strict non-disclosure agreements. The website is designed to offer an insight in to Fredwards' solutions and understanding of the financial world.
The website builds the Fredward brand identity. It expands the use of the modernist typography and introduces a traditional serif that helps create a feeling of understanding and credibility. Simple call to actions and contact forms are designed to engage with readers and the full responsive site is at home on the move as it is at your desk.
Product branding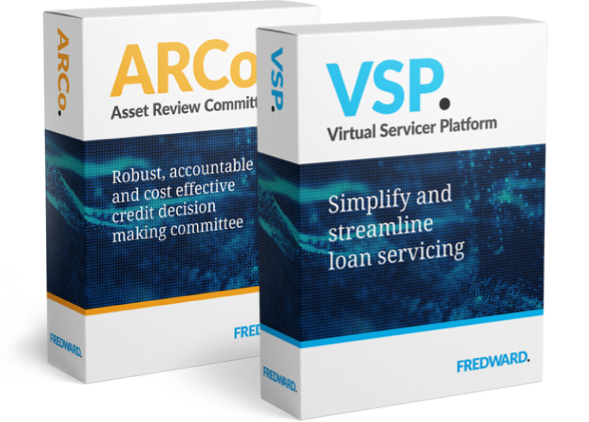 Fredward offer a range of products and solutions ready to roll-out. The products however needed 'packaging' and branding to make them accessible and to help establish a visual presence.
The bold modernist house typeface was called upon to help create individual typographic brands while the contrasting black full point was again utilised to add emphasis and to keep the style on-brand.
FEATURES
Responsive site
Unlimited pages
Social media integration
Fully client editable Content Management System (CMS)
SSL certificate - safe, secure browsing
Automatic backups - zero data loss
Winning new business
Within days of launching the new branding and website, Fredward reported their new style and visual credibility had helped them immediately win new business. However, the creative and development work doesn't stop. The website is set to grow with the addition of a news/blog area with full social media integration - coupled with our great on-page SEO, Fredward are set to keep #winning!
LINKS
Visit the Fredward website – https://fredward.co.uk/
See how Rye Design created a new financial services identity and website design for GLAS.
Helping The Rotary Club of Rochester gain new membership with pocket sized flyers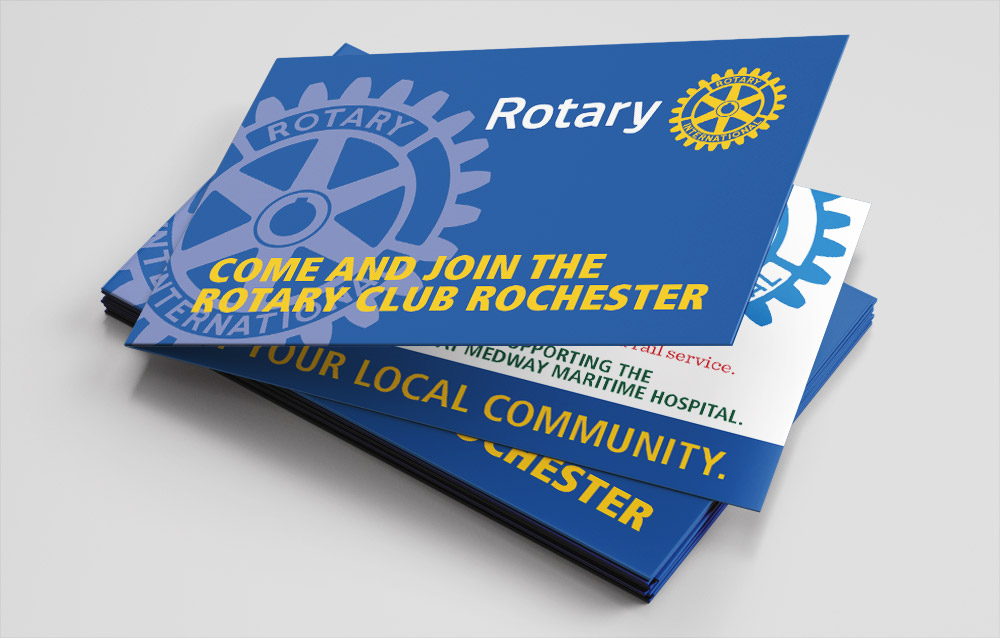 The Rotary Club of Rochester is always looking to recruit new members and we often help with quick promotional pieces like this pocket sized 4 page flyer.
What is Rotary?
Rotary is a global network of 1.2 million neighbours, friends, leaders, and problem-solvers who see a world where people unite and take action to create lasting change – across the globe, in their communities, and themselves.
The Rotary Club of Rochester
The Rotary Club of Rochester describes itself as 'a service club of inspired individuals whose contributions improve lives in communities locally and worldwide'. The club contains a diverse group of people from the local community that the club serves.
Club members are volunteers who work to tackle initiatives such as Mental Health Week and Autism Awareness Week, along with local community projects like supporting the homeless at Christmas. They have used their passion, energy, and intelligence to take action on wider projects from literacy and health awareness to helping to eradicate polio worldwide under the motto 'Service Above Self'.
A welcome to visitors
While membership of a Rotary club is by invitation only, The Rotary Club of Rochester is keen to energise local people and find those with similar interests. They are pleased to hear from interested people, to tell them a little more about their weekly meetings and invite them visit.
Rotary club promotional flyer
Our pocket sized flyer is handed out to interested parties at public events. It gives a quick overview of the initiatives The Rotary Club of Rochester is currently working on along with some details about many social events it runs throughout the year.
LINKS
Rotary International In Great Britain & Ireland
School website design showcases student character strengths at Aylesford School near Maidstone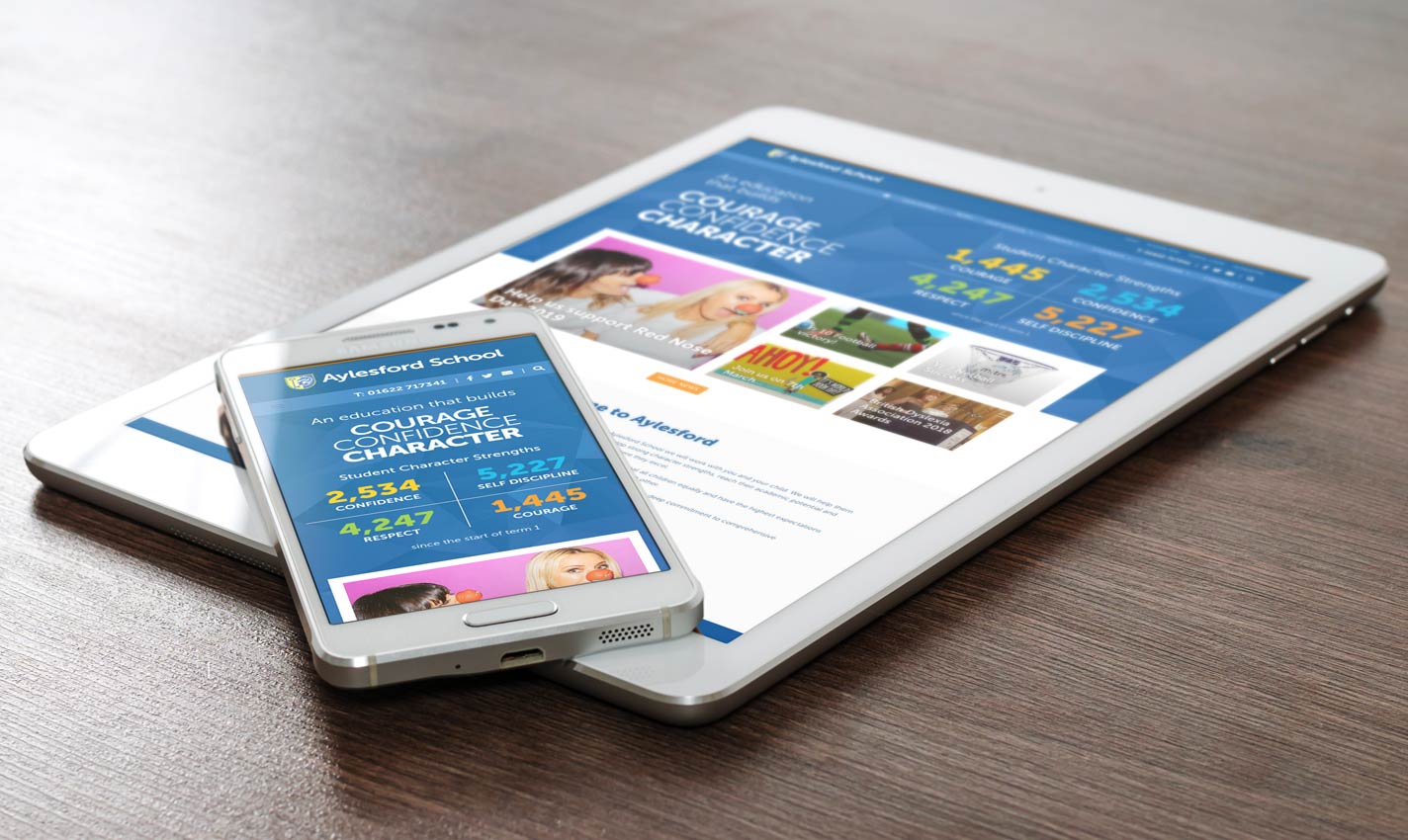 A new school website design for Aylesford School near Maidstone in Kent that showcases students character strengths and uses integrated social media to share school news with stakeholders and the local community.
Boost reputation and increase enrolment
Aylesford School in Kent recently introduced a new senior leadership team that embarked upon a journey to boost the schools' reputation and increase its enrolment. The teams' vision was to provide a 'Character Education' which develops confident young people who are successful learners and contribute positively to society.
Character strengths
Working with students, staff and parents they identified ten character strengths which they are building in to day to day life at the school, while a reward system has been formulated to recognise and reward pupils who demonstrate one of the strengths.
A new prospectus helped formally introduced the character strengths, while fresh local advertising used positive parental messages to give confidence in the direction the school was taking with the character strengths forming a common baseline.
A new school website design
A new school website design was commissioned to replace an older platform. Its brief called for an easy to manage, on-brand, Ofsted ready website that performed well on mobiles as well as desktop computers and of course showcased the schools' character strengths.

Dynamic online tally
Aylesford Schools' character strengths feature prominently on the website. The site has been developed to proudly display dynamic accumulating student totals for each of the character strengths.
School news integrated with social media
Sharing is easy at Aylesford. The site was developed to fully integrate with Facebook, Twitter and leading social media platforms - encouraging quick and easy publishing of daily news and achievements with staff, parents, students and the wider community.
Ofsted ready website
The site is 'Ofsted ready', but more importantly information is quick and easy to find for both parents and the inspectors should they call.
LINKS
Read more about school website design from Rye Design.
You can visit the Aylesford School website at https://www.aylesford.kent.sch.uk/.
FEATURES
Regular news stories
Ofsted ready website
Unlimited pages
Responsive for mobiles
Social media integration
Fully client editable Content Management System (CMS)
SSL certificate - safe, secure browsing
Automatic backups - zero data loss
Local SEO to help rank your business on Google (and other search engines)
If you sell to a local customer base you need to show up in local searches. We'll give you an insight in to how your business can use Local SEO to rank in Google, Bing, Google Maps, and other local search engines.
SEO?
Everywhere you look there's jargon!
SEO, or Search Engine Optimisation is a marketing technique focused on growing visibility in organic, or non-paid, search engine results.
Local SEO?
Local SEO is the process of optimising your local online business pages to attract more business from local users. The process works by targeting new and existing local customer searches on Google, Google Maps and other search tools.
It's ideal for business, shops and restaurants that attract customers to their doors rather than offering only a mail-order service.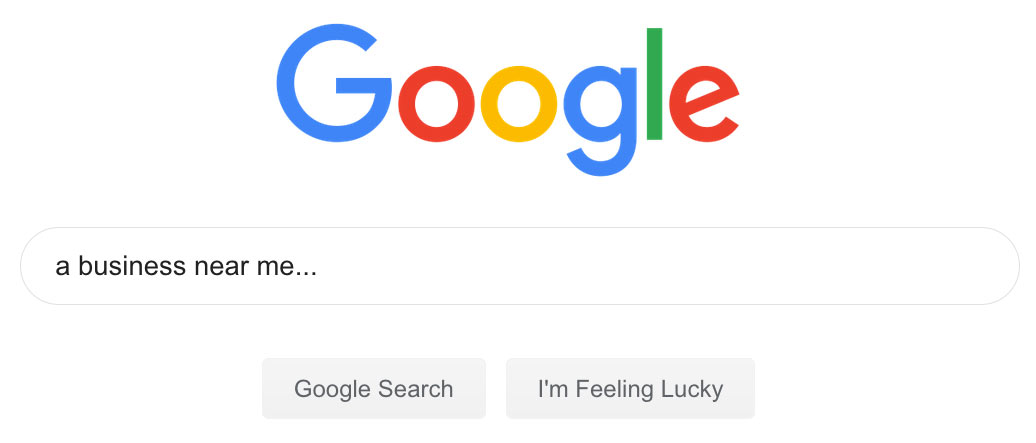 So what's local?
By local we usually mean the town or area in which you are based, but it can also mean neighbouring towns, areas or counties. It's the location or locations where you'll find your main customer base. We can target the most probable areas with you.
Getting the basics right
Firstly you'll need a website design that works. There's little point spending time, effort and money on local SEO if your website isn't working well – you'll loose that new customer right away. (If you need help with your website design just ask one of our creatives).
Next, your website needs to perform well on a mobile too, this is particularly important when looking at local SEO as this study showed that even a couple of years ago 61% of local searches were being made on mobile phones.
Today the number will be far higher.
Introducing Keyword Research
What??? We know, the internet keeps throwing up more jargon!
Keyword research is regarded as one of the most important high return activities when optimising your presence. Understanding and then ranking for the right keywords can make or break your website.
By researching the keyword demand for your market we learn not only the terms and phrases to target with SEO, but we often find more about your customers as a whole.
Our keyword report will help makes sense of it.
On-page SEO
Are your local webpages optimised?
(Do you have locally optimised website pages?)
We can help.
Optimising locally targeted webpages is important. When it's done right each local page will give Google additional information about your business, product or service - it helps the internet have a better understanding of the information displayed on your website.
A review of your local pages will help identify what Google wants to see. The information is then added to each page using a 'Schema' – a simple framework that helps organise the data, much of which is often just useful stuff like opening hours, telephone numbers and how to find you.
Local blog content
A good local blog will generate website visits from local organic search results. We'll help you create interesting and useful content for locally targeted blogs. Our team can handle the copywriting and create images and graphics too so you can concentrate on what you do best.
Social media integration
Share, share and share again.
Using social media channels can help all business. Whether you're looking to drive direct sales or to simply connect with your customers, sharing products, services and your knowledge on social media is a cost effective way to both.
And when you link back to targeted website pages your audience will be able to enjoy a content rich source of information.
Check your directory listings
Make sure the quality online directories have you listed. Getting your NAP (Name, Address, Phone number - more jargon!) correct across the main players can help your local SEO – it will help you to rank higher in Google map results as well as in Organic results. Don't go mad with every directory though, question whether the directory is reputable first, if it's not a listing may have less than favourable consequences!
Rye Design can also be found on https://www.graphicdesign-info.co.uk/rye-design-rochester.
Find out more
If you think that benefiting from local SEO sounds great, call us on 01634 818168 and arrange a free consultation.
We offer SEO review, SEO management, blog copywriting and SEO training to suit every business.
Printed wallpaper at Lambeth Academy in Clapham, London creates inspirational school graphics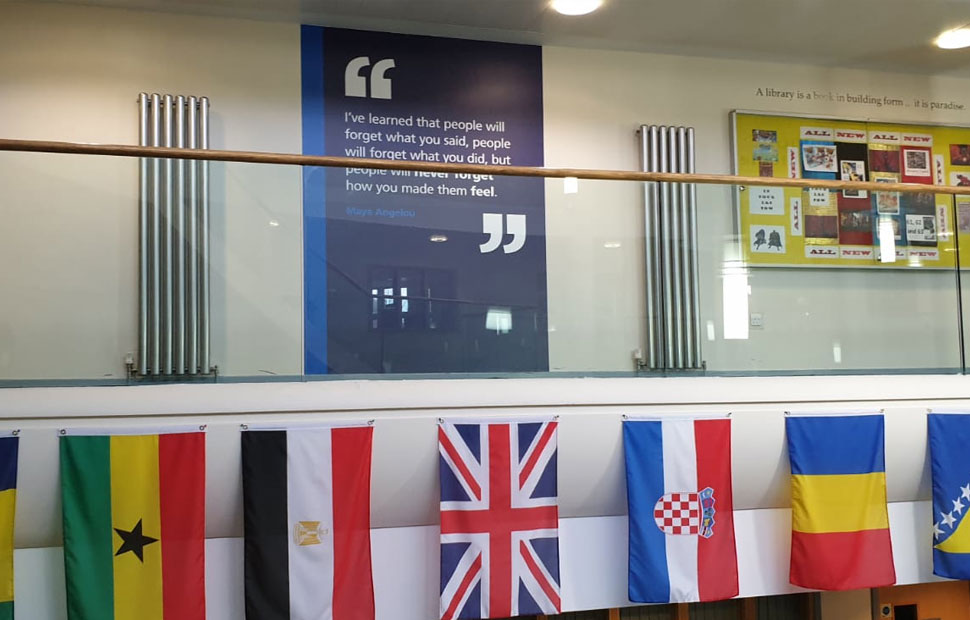 A series of inspirational quotes printed on to wallpaper are helping to inspire students and create a more inviting workspace at the busy Lambeth Academy in Clapham, London.
Short lead time
With only a 2 week lead time between the initial creative meeting and the clients half term installation requirements we rose to the challenge and completed this school graphics project at Lambeth Academy in Clapham with time to spare.
3D photographic visuals
Our team quickly created alternative designs for the school graphics, all working within the brand colours and typographic style of the Multi-Academy Trust.
Final designs were presented as 3D photographic mock-ups so Lambeth Academy in Clapham could clearly visualise the finished artwork in their school building. After a little fine tuning and adjustment finished artwork was approved for production.

Hard-wearing printed wallpaper
A full colour printed wall covering was chosen for these graphics, it provides a superior finish and can be installed on almost any surface. We then applied a durable matt laminate finish to make the large prints suitable for even the busiest areas – we also use this production process for installations in public buildings, retail and of course busy schools.
Beating the clock
Our fitters were on site on time and prepared in advance. They made quick work of a multiple location installation within the school, finishing ahead of schedule.
Working within the education sector
Read about how we create messaging, graphics and websites for schools and trusts – HERE.
More school graphics
Corporate website design for GLAS the premier independent loan agency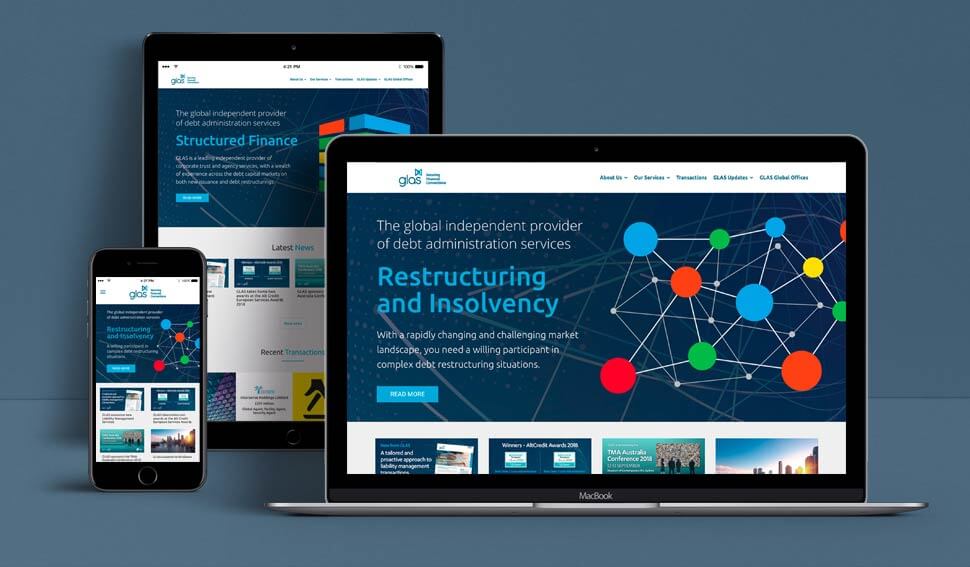 Responsive corporate website design for GLAS, the premier independent loan agency, clarifying their offering in this sophisticated financial sector.
GLAS
Global Loan Agency Services, now GLAS, was established in 2011 as an privately owned provider of finance administration services and is now recognised as the premier independent, non-creditor, conflict-free provider of loan agency and bond trustee services.
Website design
As part of an overall rebrand for GLAS, a new responsive website design was developed.
The website details their offering within the financial sector, showcases deals and is used as a tool to win new business.
The site integrates fully with LinkedIn and other leading social media platforms enabling easy information sharing and back linking to news posts and information pages.
Clear messaging
As part of an overall rebrand GLAS commissioned a new corporate website design to detail their offering to the financial service sector, showcase deals and to support new business proposals.
Connected with LinkedIn
The corporate website design integrates fully with LinkedIn and other leading social media platforms enabling easy information sharing and back linking to news posts and information pages.
LINKS
You can see the GLAS website design at https://glas.agency/
Read more about our approach to web design here.
FEATURES
Corporate website design
Responsive site
Unlimited pages
Staff/team pages
News/blog
Social media integration
Fully client editable Content Management System (CMS)
SSL certificate - safe, secure browsing
Automatic backups - zero data loss
Charity website design helps support kidney patients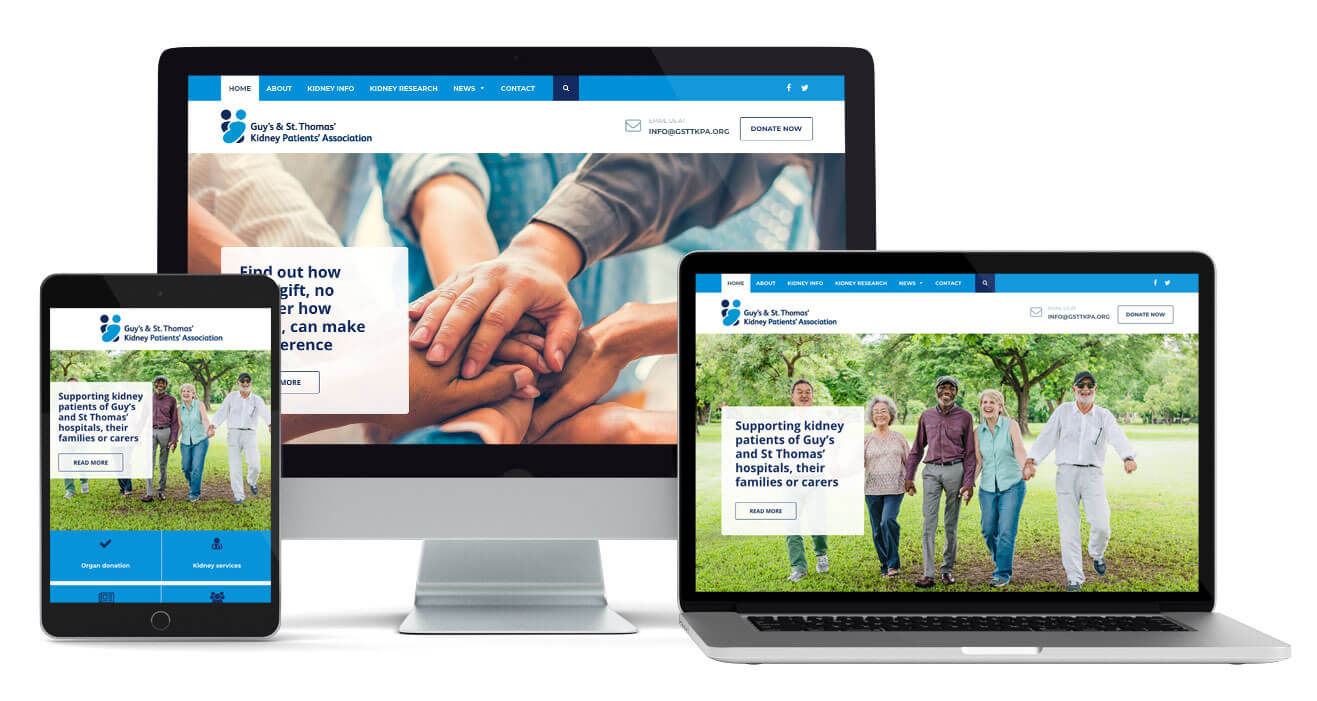 Our charity website design for the Guy's and St Thomas' Kidney Patients Association is helping the charity support both patients and their families.
Guy's and St Thomas' Kidney Patients Association
Guy's and St Thomas' Kidney Patients Association, or GSTTKPA, was founded to support kidney patients of Guy's and St Thomas' hospitals, their families or carers.
They help patients by funding social events in the dialysis units and activities such as The Transplant Games for adults and children.
GSTTKPA also fund patient amenities such as TVs in clinics and dialysis units, while helping to raise general awareness of kidney disease.
Rye Design was commissioned to build a new charity website to support GSTTKPA in their activities.
The new website helps the Association share information, publicise events and inform their audience about medical research and developments.
Connected with Facebook
The website design integrates fully with Facebook and other leading social media platforms enabling easy information sharing and back linking to news posts and pages.
LINKS
You can visit Guy's and St Thomas' Kidney Patients Association website https://gsttkpa.org/ and follow them on Facebook HERE.
Read more about our approach to web design here.
FEATURES
Charity website design
Responsive site
Unlimited pages
Social media integration
Fully client editable Content Management System (CMS)
SSL certificate - safe, secure browsing
Automatic backups - zero data loss
Lotus Sports Cars 'SELOC' Calendar 2019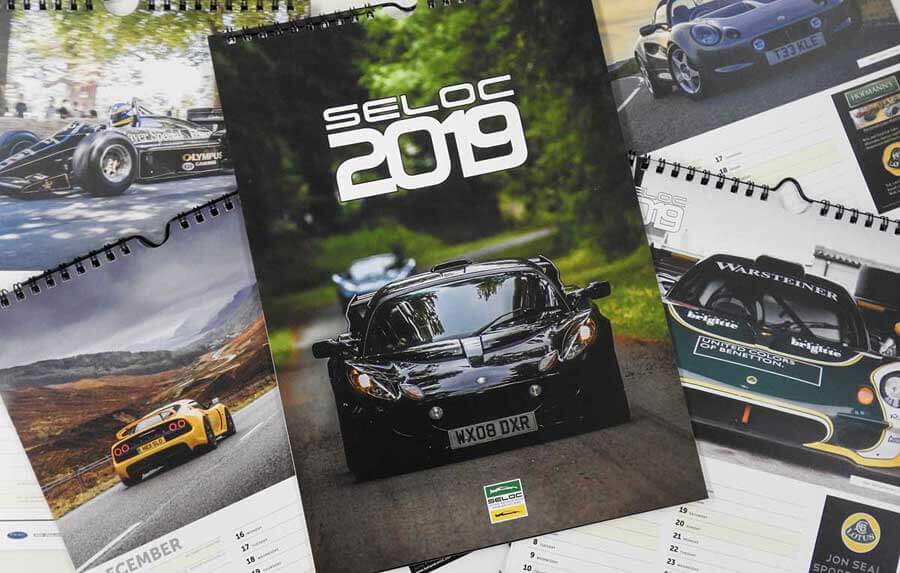 Great photography and calendar design helps the 2019 SELOC Lotus sports cars calendar take the chequered flag.
Sportscar photography
The SELOC calendar features photography taken by club members, both amateur and professional.
Calendar design
Each month of the SELOC calendar showcases a great shot of a car made by Lotus.
Featured cars include Ayrton Senna's Lotus 97T Formula 1 car in it's world famous JPS black and gold livery, a Lotus GT1 Le Mans endurance sports car and many road going models from the last few decades including the Lotus Elise, Lotus Evora and the Lotus Esprit, the wedge shaped supercar made famous by 007.
Want a copy?
If you want a copy for your wall head over to https://shop.seloc.org before they sell out or become a Club Supporter and you'll get one for free with your membership.
Sixth Form prospectus design that helps students consider future pathways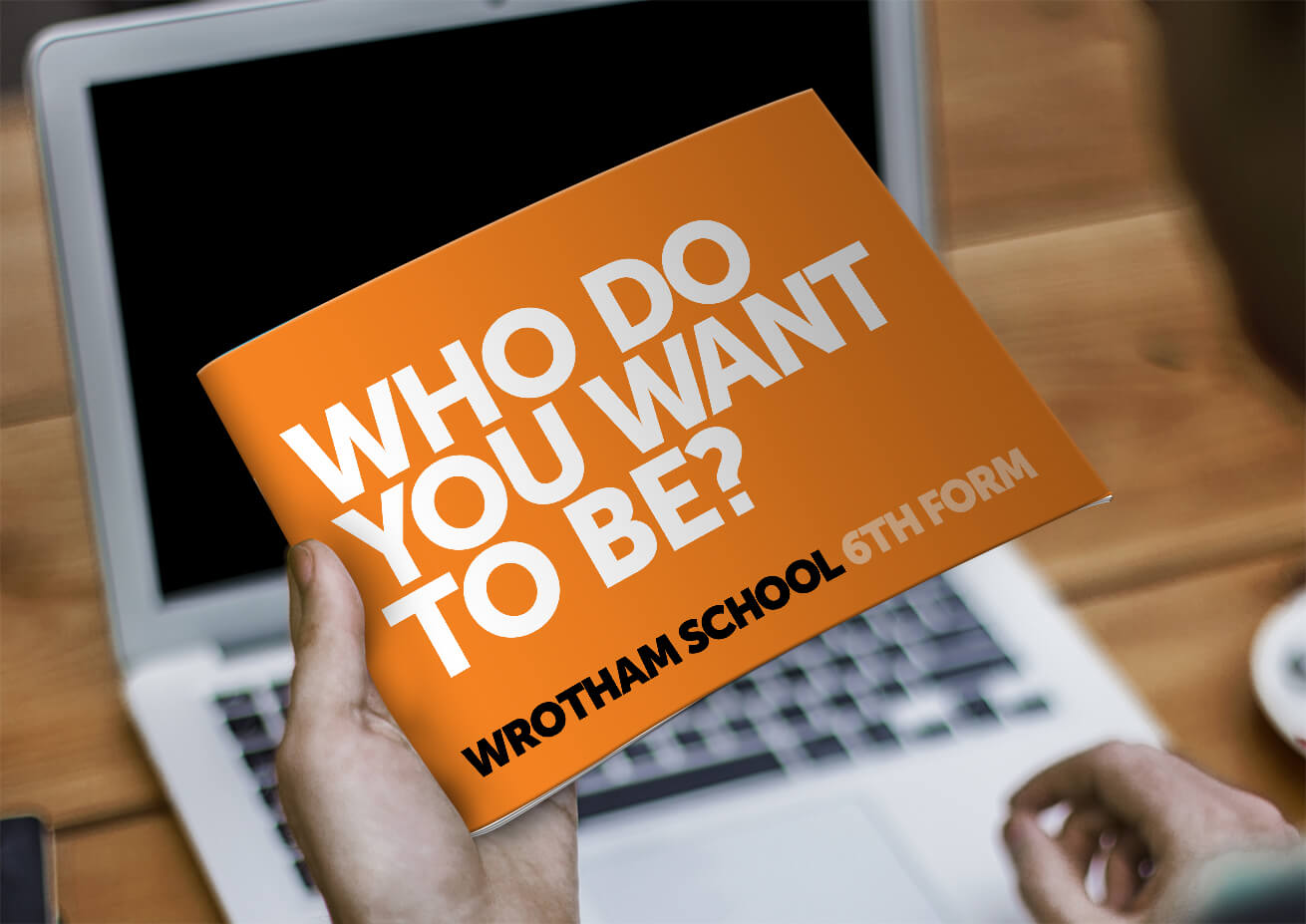 Sixth Form prospectus design that asks students at Wrotham School in Kent to really think about what they want do in the future.
Who do you want to be?
Our headline asks an important question and was written with intent. It's a headline typeset in extra bold to show its importance and designed to get students at Wrotham School really thinking about what they want to do in their futures.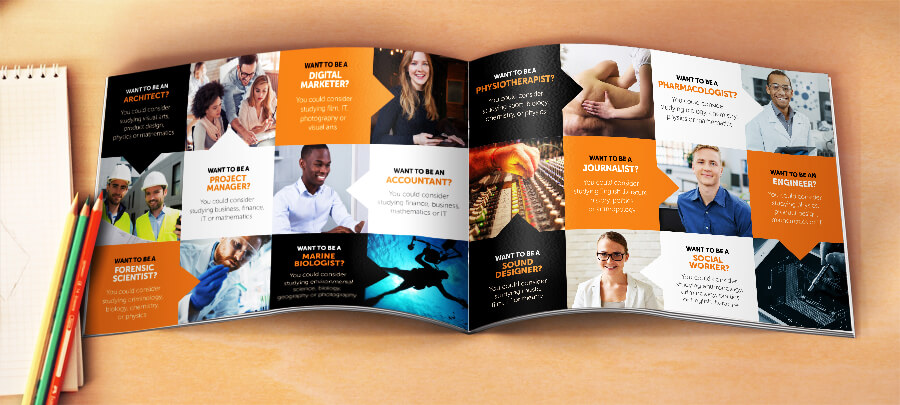 Students' thinking is encouraged with grids that showcase career options throughout the prospectus design. These prompt thought into the world of work and outline the pathways required for each outcome.
On brand design
The Sixth Form prospectus design for Wrotham School continues to help build the schools' visual brand identity.
It features the schools bold use of orange combined with a strong typographic style used throughout the schools other marketing materials and signage.
Working within the education sector
Read about how we work with schools and trusts – HERE.
School prospectus design for Kingsdown School, Swindon that introduces a new ethos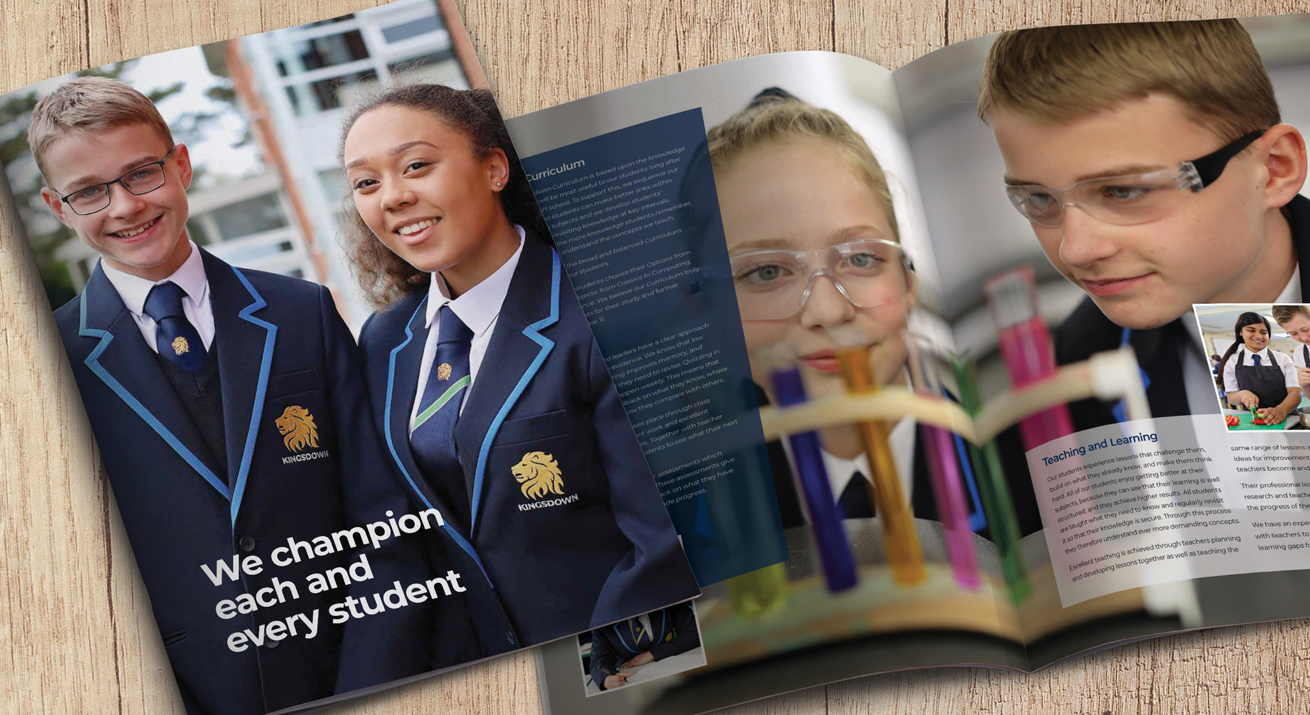 A new school prospectus design for Kingsdown School in Swindon. Created to boost both enrolment and reputation within the local community, and to give the students a sense of pride and ambition.
Our work for Kingsdown School in Swindon started with creating a new school identity and school uniform design. Both were received well, especially with students who liked the more contemporary feel and the fresh style of the new clothing.
School prospectus design
The brief for the Kingsdown School prospectus design was to help present not only the schools' new identity but also its' new vision and ethos designed to put Kingsdown School on track for many future successes.
School prospectus photography
A fresh photographic style was used to help tell a visual story of student engagement and enthusiasm. Each image was carefully planned and taken which gave us a good selection to call upon especially with our full page design.
Link
You can download a copy of the Kingsdown School prospectus at the Kingsdown School website.
Working within the education sector
Read about how we work with schools and trusts – HERE.
More school design work
School prospectus design that showcases a great education at Wrotham School in Kent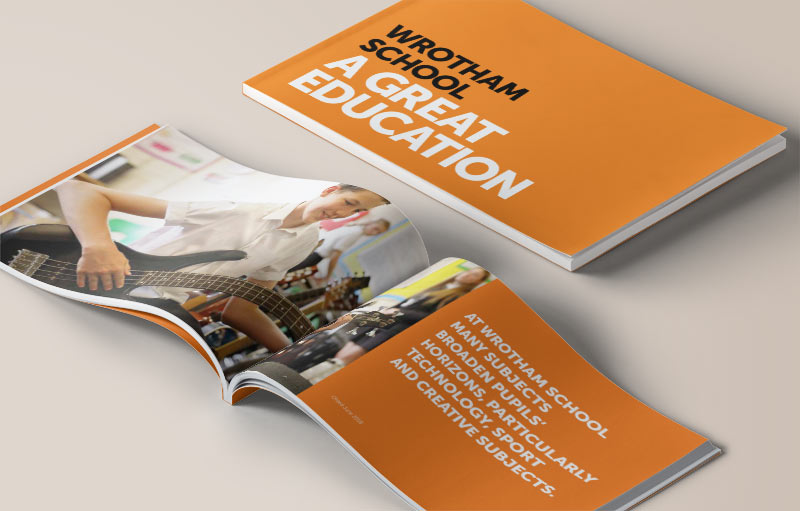 Wrotham School prospectus design in the style of a coffee table book that combines strong messages and large images and takes a step away from the standard portrait format.
Wrotham School commissioned a new school prospectus design that reflected the individuality of the school, students achievements and the wide curriculum on offer. The brief also called for the prospectus design to 'feel' different too.
Celebrating opportunity
While pupils at Wrotham School enjoy strong academic success, many students also participate in the wider creative, performing arts and sporting opportunities available.

School prospectus design
The new school prospectus design used a mix of fresh photography and large messages that created a landscape coffee table style book that clearly positions the school apart from its' contemporaries.
Orange is the new black
Orange was a bold choice, but it reflects both the creativity and vibrancy found at the school and importantly sets a visual contrast with the traditional black.
Working within the education sector
Read about how we work with schools and trusts – HERE.
More school design work
Local advertising for schools helps raise reputation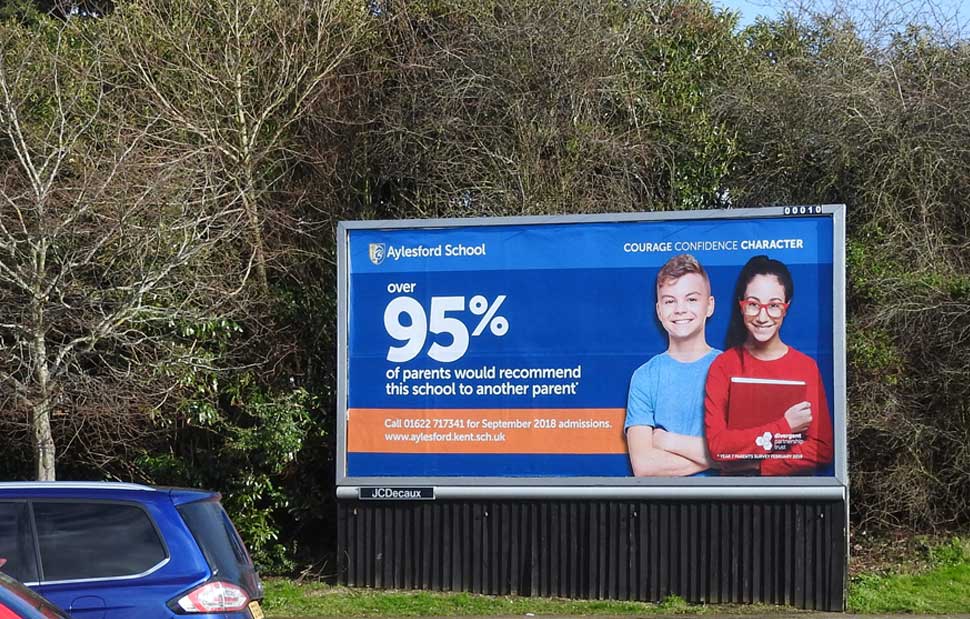 Local advertising for schools and academies is an effective method of raising profiles within communities.
Local advertising for schools that works
Whether you're recruiting for next years intake or considering a local confidence campaign, we can help with creative advertising and targeted media planning.
Creative campaigns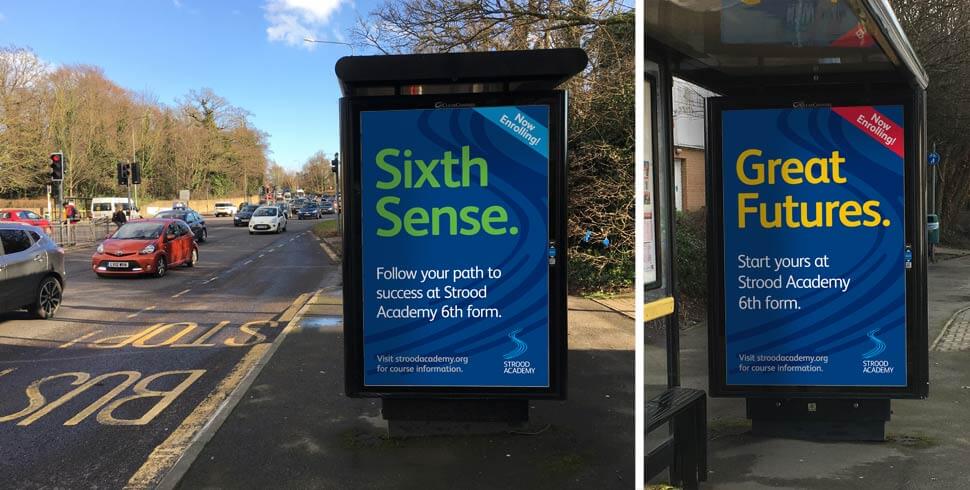 From a simple ad promoting an open event to more complex confidence building campaigns, we will write headines and create designs that will grab attention to get your message across – and we'll work to your existing style, producing a campaign that will also strengthen your schools brand.
Wider benefits of school advertising
In addition to reaching the objectives of your campaign, local school advertising has been proven to have wider benefits too:
INCREASE STUDENT NUMBERS
DRIVE TRAFFIC TO YOUR WEBSITE
ENGAGE COMMUNITY SUPPORT
RAISE GENERAL AWARENESS
Media planning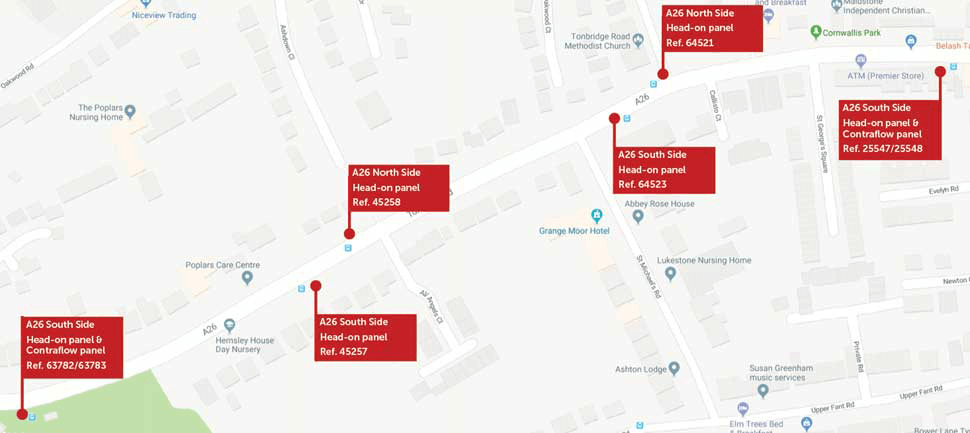 Using the right media at the right price is paramount to getting returns on your investment. We'll assess local advertising opportunities and media availability that meets both the campaign objectives and your budget.
We'll guide you thorough the media that is proven to be effective and we'll discuss footfall and passing traffic numbers – so you'll understand the potential coverage and full reach of your ad.
BUS STOP & BUSES
BILLBOARD POSTER SITES
RETAIL PARKS
DIGITAL DISPLAYS
RAILWAY STATIONS
CINEMA
Talk it through - there's no obligation
Give us a call today on 01634 818168. Tell us what you want to achieve, we'll send you a proposal for a bespoke creative and targeted local campaign for your school by the next working day.
We'll even show you how good you can look on the back of a bus!
LINKS
Working with Schools & Education
Getting attention with Local SEO
Make an offer with our property sales particulars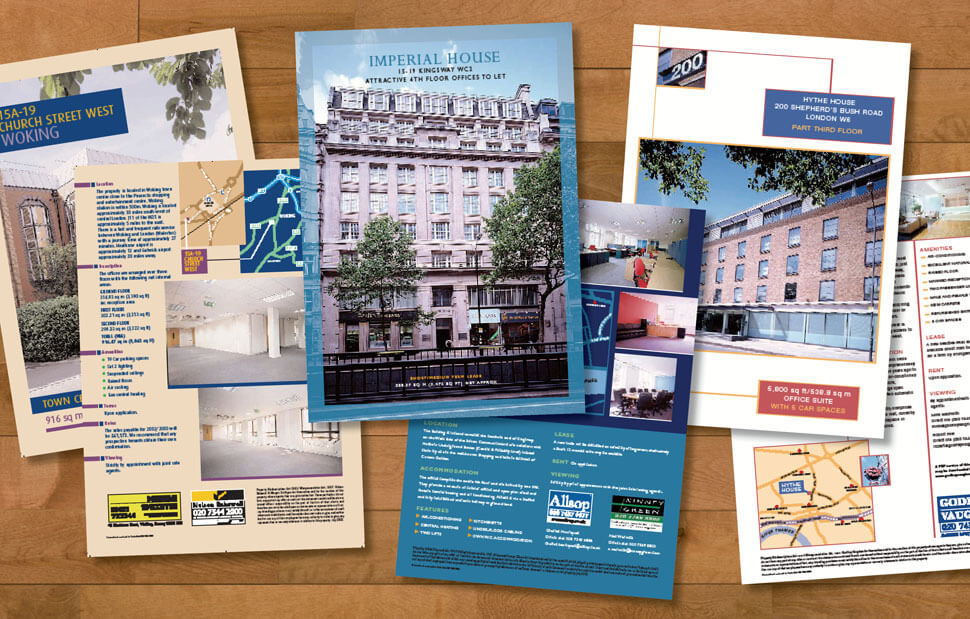 We wish to acquire a client in the property business. And we'd like to start by making you an offer.
In a competitive business environment, it's important to keep a tight control of budgets that's why we work to fixed prices for property companies.
Making you an offer
Our pricing structure offers bespoke design and artwork, map or plan drawing, location photography and printing – we cover most of the expenses involved in producing sales material for both commercial and residential developments.
At Rye Design, we make this offer because we are used to working on cost-sensitive projects for both the financial sector and many government departments.
Experience to back it up
We have gained experience in property by working for a specialist property adversing agency. Having handled a wide range of projects we're now dealing with developers and agents directly.
So, if you like the sound of fixed prices for property companies call us today on 01634 818168 and we'll make you and offer.
LinkedIn profiles – a quick guide to developing your personal brand online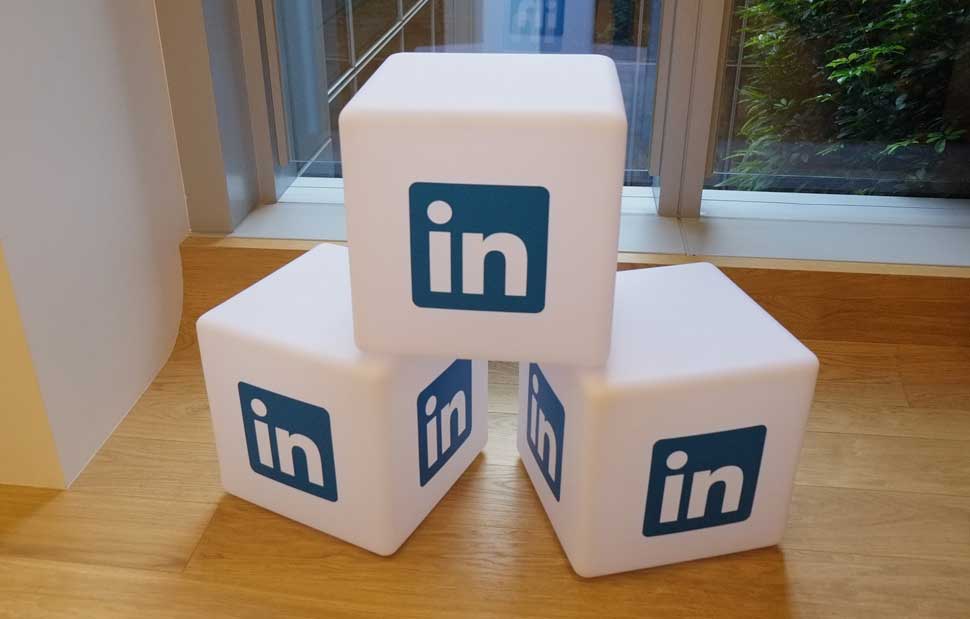 A personal profile on LinkedIn is your online business profile. It's viewed by colleagues, peers, customers and employers when you're not there in person so making a good impression counts.
Here's our quick guide to getting started with LinkedIn, follow these pointers and you'll have a profile everyone will want to connect with in no time.
Getting started
Obviously you'll need an account at LinkedIn, if you're already a member jump right to point number 1!
If you are new to LinkedIn you'll need to open an account at https://www.linkedin.com/ or download the app below and follow the instructions onscreen.






Once you've verified your new account you're ready to go.
Here's our quick 10 point guide…
1. Select a profile picture suitable for LinkedIn
It's your online calling card and the image you choose for your profile picture on LinkedIn is important – studies1 show a profile with a photo is 14x more likely to be viewed than one without. It is the first thing people will see when they read your profile, so make the right impression and use a recent photograph that recognisable. LinkedIn suggest using an image where your face takes up about 60% of the frame. Make sure you feel comfortable and wear business attire that's suitable for the your business sector - if in doubt look smart and don't use that beach shot you like, unless of course you're a lifeguard or oceanographer!
To get the best results use a profile picture sized to 400 pixels by 400 pixels.
2. Use a background image
You should add a background image at the top of your profile page. It will grab attention and shows more about what matters to you at work. A good background photo will helps your profile stand out and get attention. If you're not sure what to use ask your employer if they have any suitable images or graphics available.
Size your background image to 1584 pixels wide by 396 pixels high or crop it using the image editor in LinkedIn.
3. Your headline – it's what you do and why you do it
What's you're WHY? This is your opportunity to say what you do and/or why you do it. A couple of lines should work well here.
4. The summary is your story
Expand upon your headline and tell the world where you've been and where you're going. Make your summary about your personal experience in your industry. Let people know a little about your history, your work and your achievements. List your skills and explain why they matter.
5. Grow your network connections
The easiest and most relevant way to grow your network is to sync you LinkedIn profile with your email address book. LinkedIn will encourage you to do this and then suggest people you could connect with. Don't worry, no connection requests are sent without your permission, but this can be really effective to start to grow your network. Once your profile is established establish the habit of following up meetings with connection requests to keep you network up to date – easily done with the LinkedIn App for mobile phones.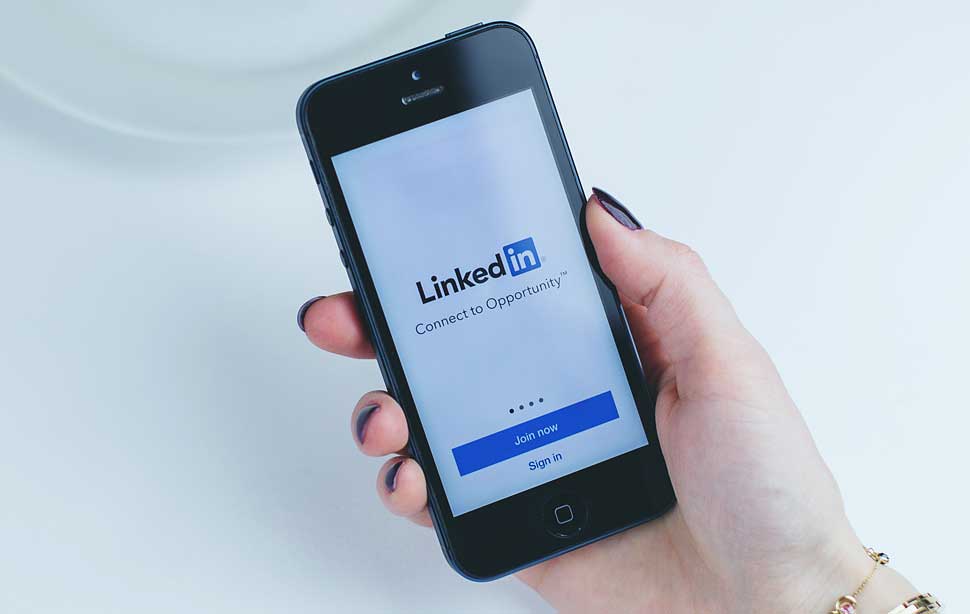 6. Add your skills
This is a quick one. Scroll through the LinkedIn list of skills and select all of those that are relevant to you. Use them to substantiate the description you wrote in your Headline and Summary. The list provides a platform for others to endorse you so while a long list of skills is great, make sure they are relevant to who you are and what you do.
7. Endorse others, ask them to endorse you
Endorsements from others give real credibility to your skills. Give endorsements to network connections you genuinely feel deserve an endorsement from you - this will often encourage them to return the favour. Don't be afraid to ask anyone you've worked with for an endorsement, but as before relevance matters so reach out to people whose endorsement you'd really value.
8. Request a recommendation
Recommendations take things further than endorsements. A recommendation is a personal testimonial that illustrates direct experience of working with you. Think about who you would most value a recommendation from – and send them a personalised request, there's even a handy menu in the recommendations section of your profile to make it easy to connect and it's always worth the extra effort.
8. Share your knowledge and work
Have you helped to write a white paper, a blog or an eBook? Use the publications section to list any thought-leadership content you've written and stand out from everyone else.
10. Get involved, follow, share and add comments
a. Follow industry influencers
By following relevant industry influencers on LinkedIn you'll be automatically collating interesting content right in to your news feed. If you find contact thats relevant and interesting sharing it with others will add value. Any industry influencers you follow will be visible in your LinkedIn profile, demonstrating your passion for what you do.
b. Share your materials
The marketing materials you use for your business or organisation will add extra depth to your profile. Share case studies, white papers and sales materials – it shows other people who you work for and helps them understand your attitude and commitment to work.
c. Say what you think
Add comments to your shares and to posts by others - show your agreement or add to the unfolding story – give yourself prominence within the feed and explain why you think the content matters. Well-expressed comments will help raise your profile across LinkedIn - remember keep it relevant and keep in mind that you're saying something you'll be happy for people to associate with you.
That's you sorted, does your company need help?
If your company needs help with it's LinkedIn presence we can help. We'll help you set the right tone and feel and give you a package of materials to use on your corporate page and for your employees to share.
Call us on 01634 818168 or message us at mail@ryedesign.co.uk.
---
1 https://business.linkedin.com/talent-solutions/blog/linkedin-best-practices/2016/how-to-throw-a-linkedin-profile-makeover-party-to-boost-your-employer-brand
Helping the Medway Night Shelter at Christmas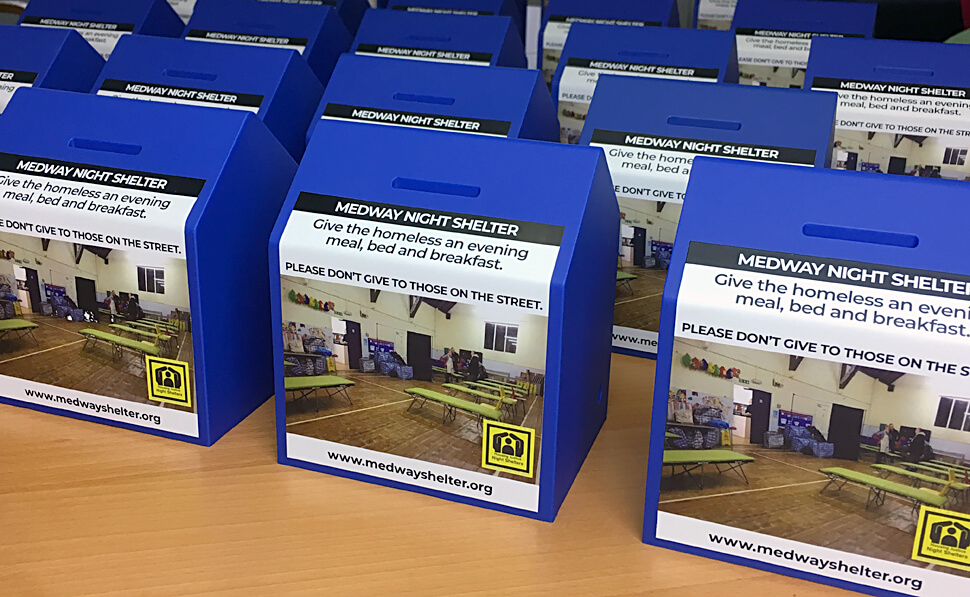 This Christmas we're supporting the Medway Winter Night Shelter help the homeless in Rochester, Chatham and across Medway.
The Medway Winter Night Shelter
The Medway Winter Night Shelter is a project run by Medway churches and the Strood Community Project to help homeless people with a connection to Medway during the coldest and most difficult time of the year.
It was set up in October 2015, and opened again at the beginning of January 2017 and ran until the end of March, with a twelve-bed shelter supported by over 170 volunteers.
Helping where we can
We're donating our design and marketing services to help create collection boxes that will be distributed in shops, bars and restaurants in Rochester and Medway.
Money spent well
Monies collected by the Medway Winter Night Shelter boxes will help give the homeless an evening meal, bed and breakfast over the winter months.
FIND OUT MORE
Visit The Medway Winter Night Shelter.
Sparkling new branding & packaging design for Vidici Prosecco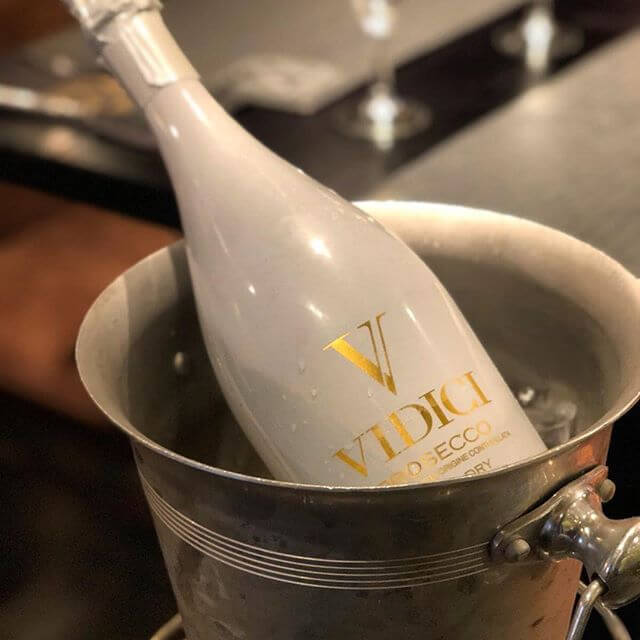 New branding and packaging design for premium Prosecco label gets showcased at Vidici launch!
Party time
After months of hard work from all involved it was a busy weekend for new premium drink label Vidici Prosecco with launch parties @SugarHut and @themezebromley.
Classical Italian style
The label features a bespoke split Bodoni Book 'V' motif which hints at classical Italian styles. It's reproduced unabashedly in gloss gold over a shrink wrap pearlescent bottle.
Crisp and distinctive packaging design
It's not just its branding that's crisp and distinctive, its taste is challenging the Champagne market with one sommelier saying "[Vidici is] characterised by a brilliant light yellow straw colour, Vidici is delicate on the nose providing hints of honeydew and citrus fruits. On the palate it is fresh, crisp and distinctive. An excellent example of classic prosecco".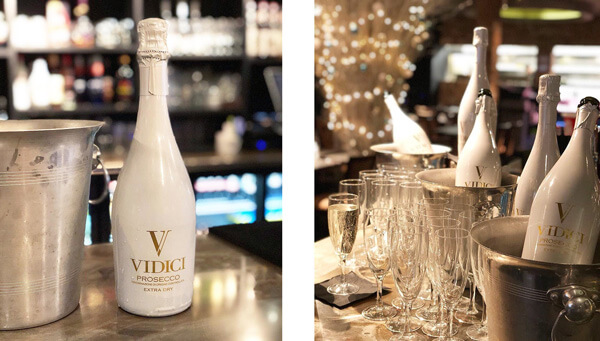 Don't forget to ask your local wine bar or restaurant for a bottle.
Wall graphics that build engagement at Aylesford School near Maidstone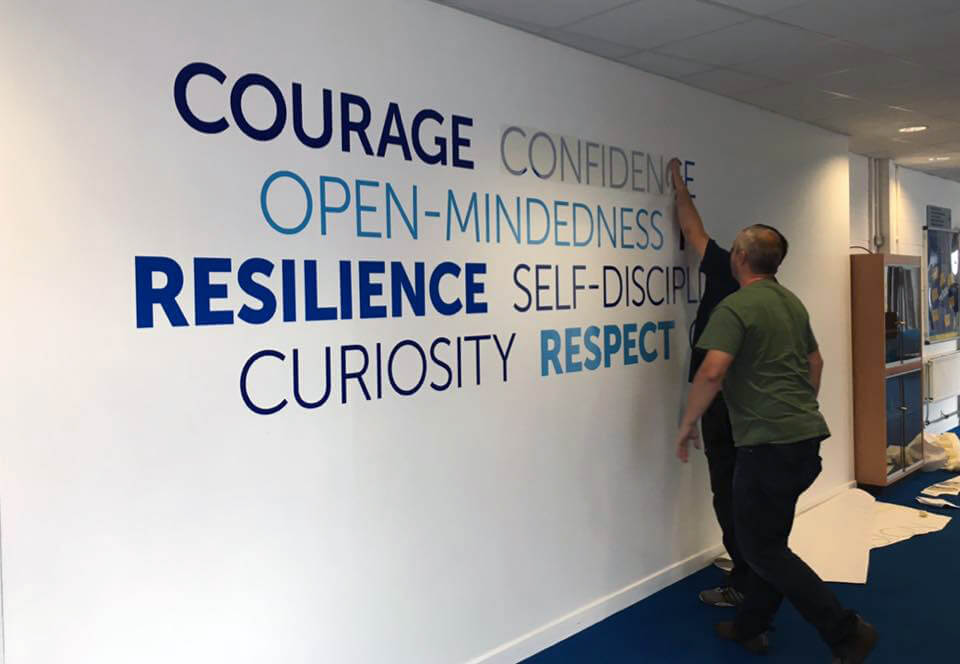 Say it loud. Say it proud. Our vinyl wall graphics being installed at Aylesford School near Maidstone will help establish values among students and stakeholders.
Laser cut vinyl
Clean, crisp laser cut vinyl was applied to a 6 metre long wall in Aylesford School's busy reception area.
Our vinyl decals can be cut to any design and in a wide range of colours and finishes – they are a cost effective and quick solution to messaging and work particularity well on large glazed areas and on school vehicles.
Good design and messaging engages students, staff and stakeholders.
The words here are used to communicate Aylesford School's values through its' school prospectus design, school website design and wider marketing.
Working within the education sector
Read about how we work with schools and trusts – HERE.
More school graphics
Packaging design for fitness supplement performs well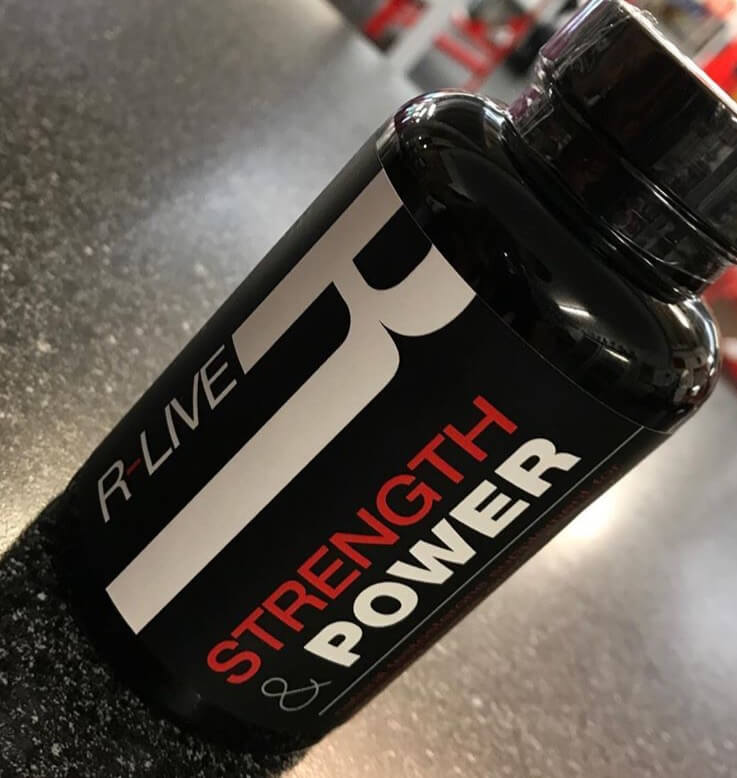 New fitness supplement packaging design for R-LIVE and ITV's Love Island contestant Rykard Jenkins.
Our styling and packaging design for Strength & Power is the first product in a new suite of fitness supplements.
R-Live
Strength & Power is natural supplement for increased testosterone that provides maximum muscle growth, increased energy and faster recovery from training.
Alongside Strength & Power sits Lean & Tone, a fitness supplement booster for women.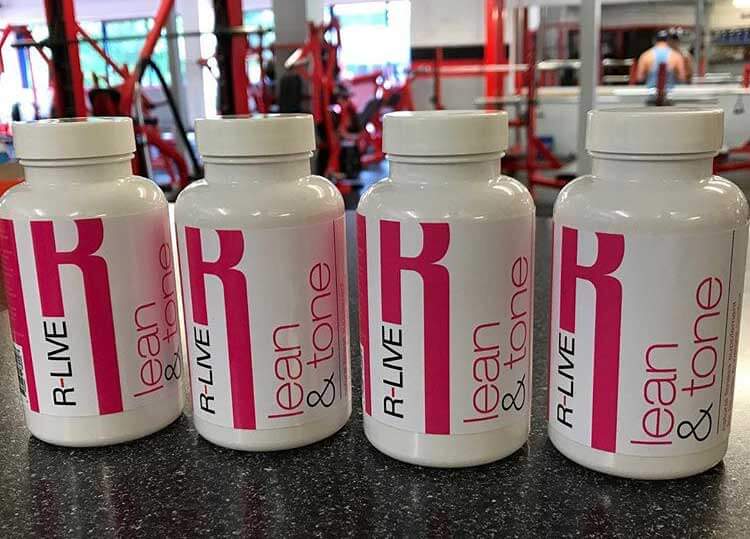 R-LIVE Lean & Tone is a mix of natural ingredients that help support weight loss and fat burning while improving strength and lean muscle mass composition.
The R-LIVE range is expanding over time, with meal replacements and a pre-workout aid coming very soon.
LINKS
Find out what an ex-reality TV contestant gets up too after the show on Instagram.
Are you a winner? Drop your card in a bespoke ballot box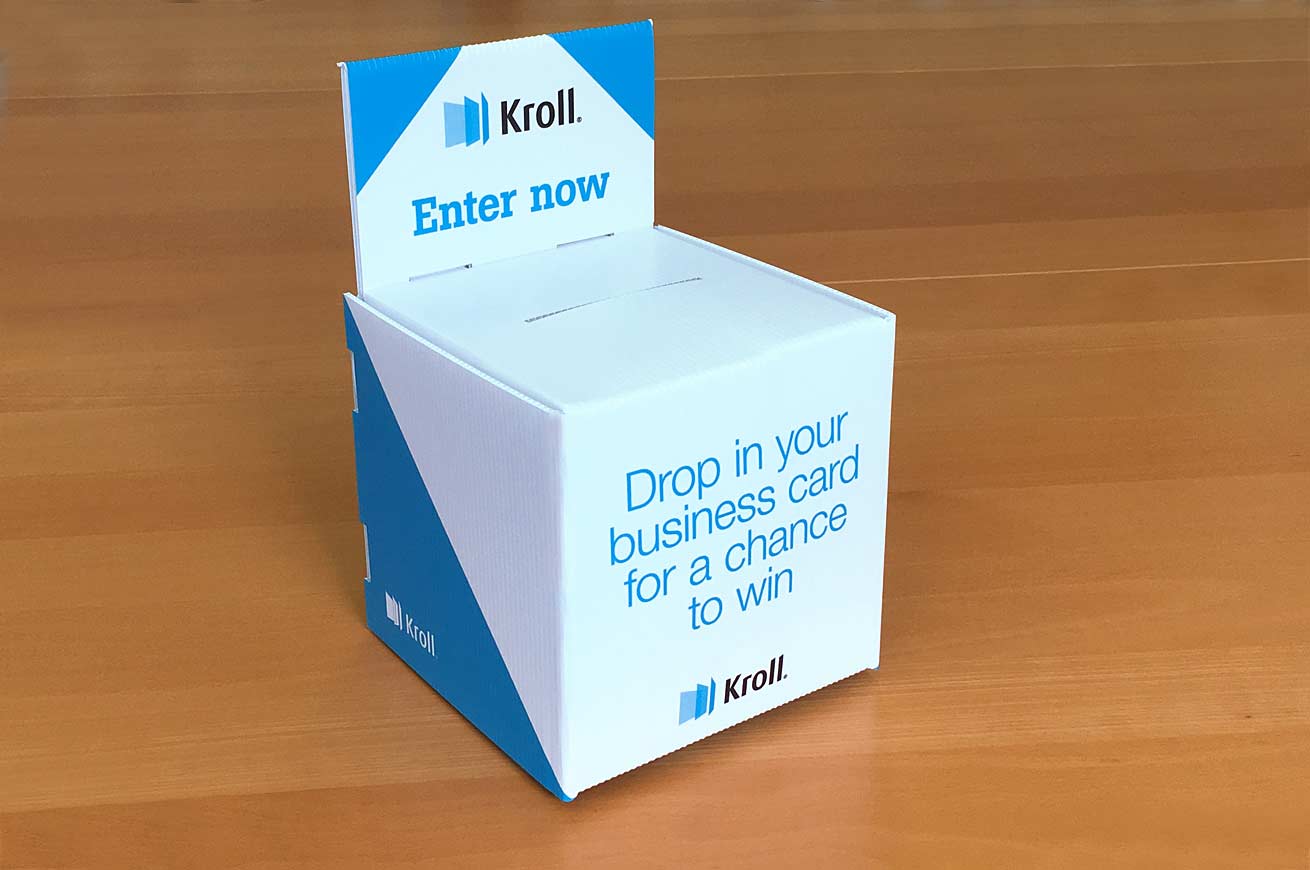 Enter Now! Collect votes, suggestions and business cards, or even run a prize draw with a branded ballot box design.
Our printed polypropylene ballot boxes will help you gather information and potential clients. They provide a quick and easy device to collect and store business cards, questionnaires or ballot papers.
Clear messaging
We print boxes in full colour so your logo and style is on brand and that all important message or call to action can be clearly read.
Ballot box design - in store, at the bar, at an event…
Collection boxes have a small footprint so they don't take up a lot of counter space in a busy restaurant, retailer or reception area. They're very popular at exhibitions and events, proving ideal to collect new customer leads.
Use it again. And again…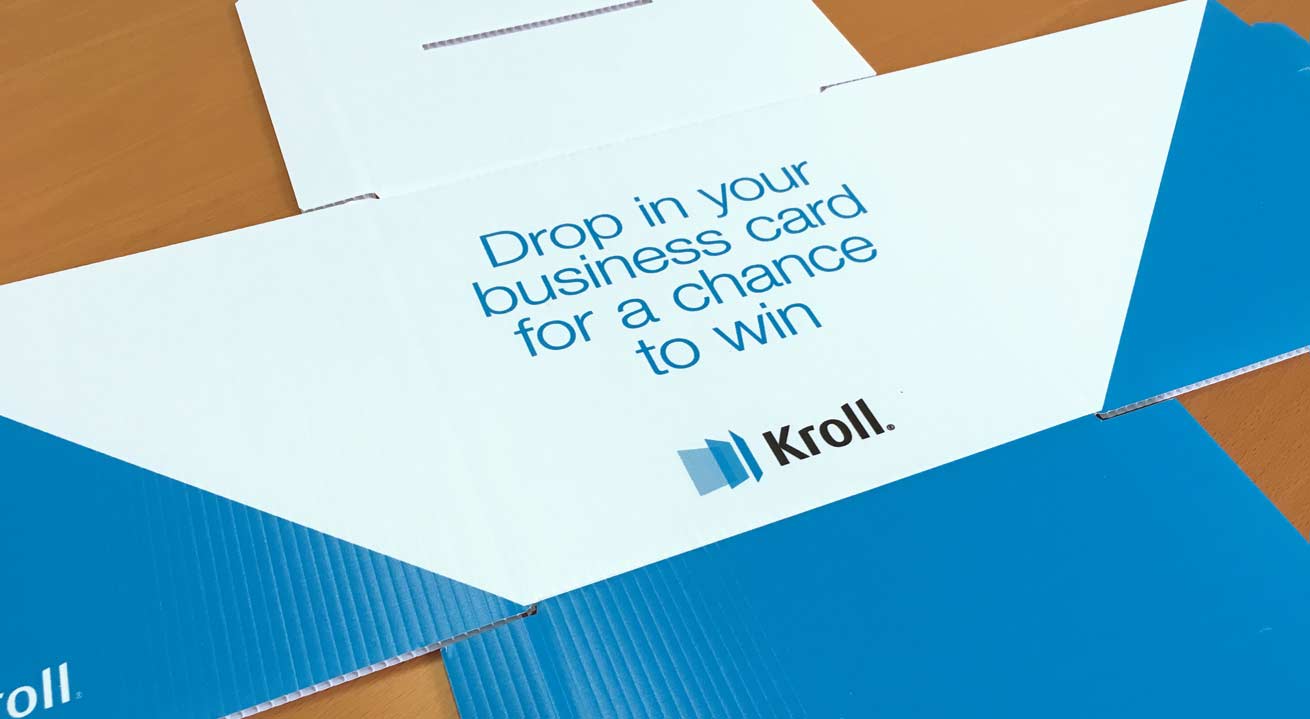 Boxes are delivered flat-packed ready for you to simply fold them together. If you want to use them again, carefully unfold and store flat until next time.
Keep it confidential!
When your running a confidential ballot our boxes can be sealed with tamper proof security tape to ensure votes are not compromised.
CASE STUDY - Who are Kroll?
Kroll is the leading global provider of risk solutions, they specialise in identifying, monitoring and removing risk across business and enterprise. Kroll attend events every month and bespoke ballot boxes have proved an ideal tool to help build their customer base.
LINKS
Visit Kroll.
Show your true colours with a luxury business card design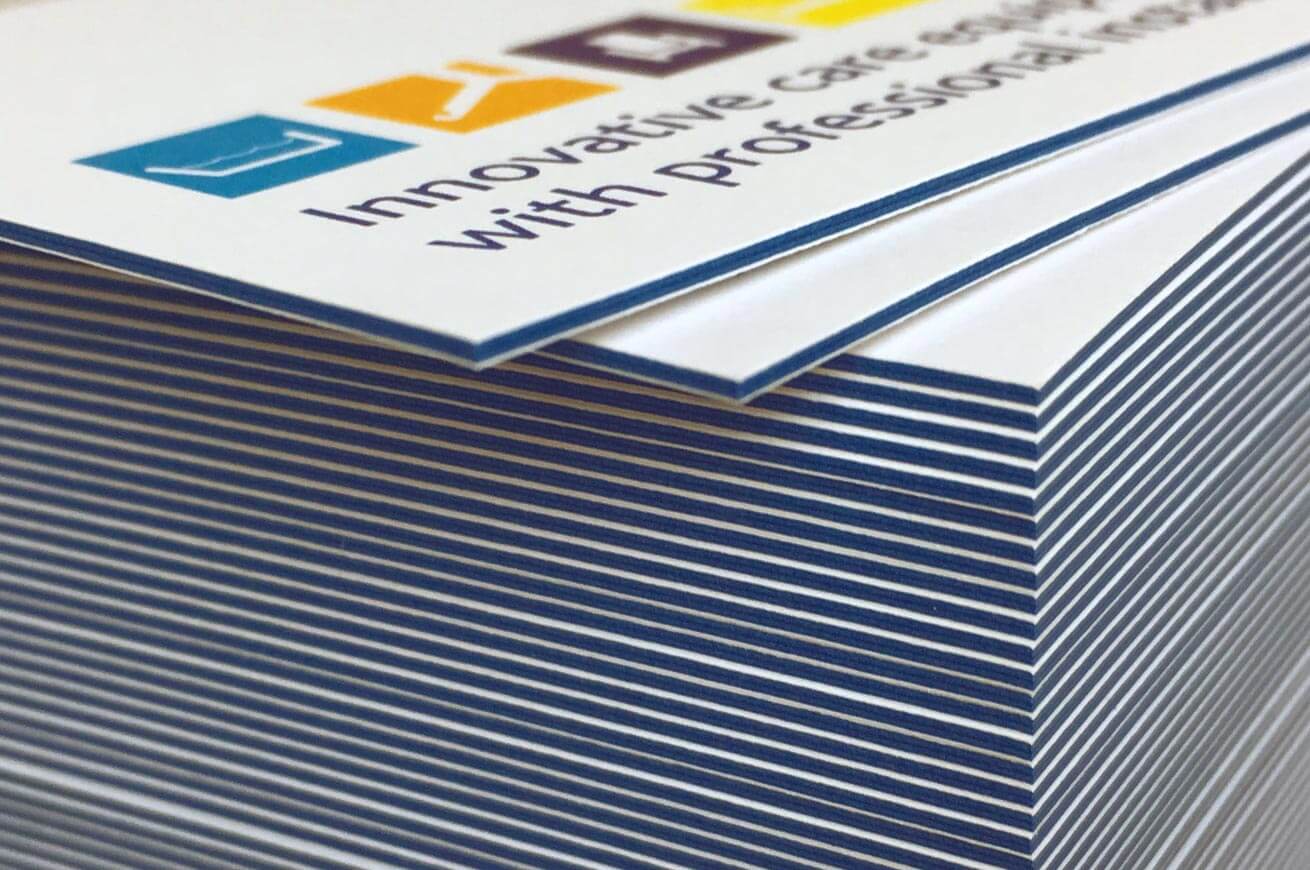 Luxury business cards impress your customers and improve brand awareness.
Handing over a business card. It identifies you and your company and carries your contact details and maybe a brand message. The process is carried out at the start of every working relationship, every minute of every day, all around the world – often without much thought.
But now the luxury business card has raised the bar, aiming to impress your customers.
Luxury business cards
A luxury business card speaks volumes about you and the company you represent. They come in many styles and finishes to help you make your mark.
Laminated business card design
A simple will always help your presentation. Lamination is the process of taking the printed material and enclosing it between two sheets of clear plastic film. A laminated business card will have increased strength and durability, and be protected from stains and moisture. The lamination can also add sheen and vibrancy to the printed inks. While gloss and matt lamination are both popular techniques, soft touch and textured lamination can also create a finish that will stand out.
Triplex business cards
This three layered card comes in a range of colours to work with any design and help to enhance your brand. A single sheet of coloured card is bonded between sheets of high quality bright white board. This creates a thick, up to 1mm!, 800gsm card that really stand out from others.
Tearproof business cards
If it's good enough for the Royal Mint then… That's right our tearproof business cards are virtually indestructible and 100% waterproof too - just like the new notes in your wallet, ask us next time you call.
Magnetic business cards
Our high quality magnetic paper is made from of a silk paper with a coated magnetic back. It's flexible, thick and has a laminated finish, it is perfect for getting your business card seen on fridges, freezes and boilers.
Help identify staff and visitors with printed lanyards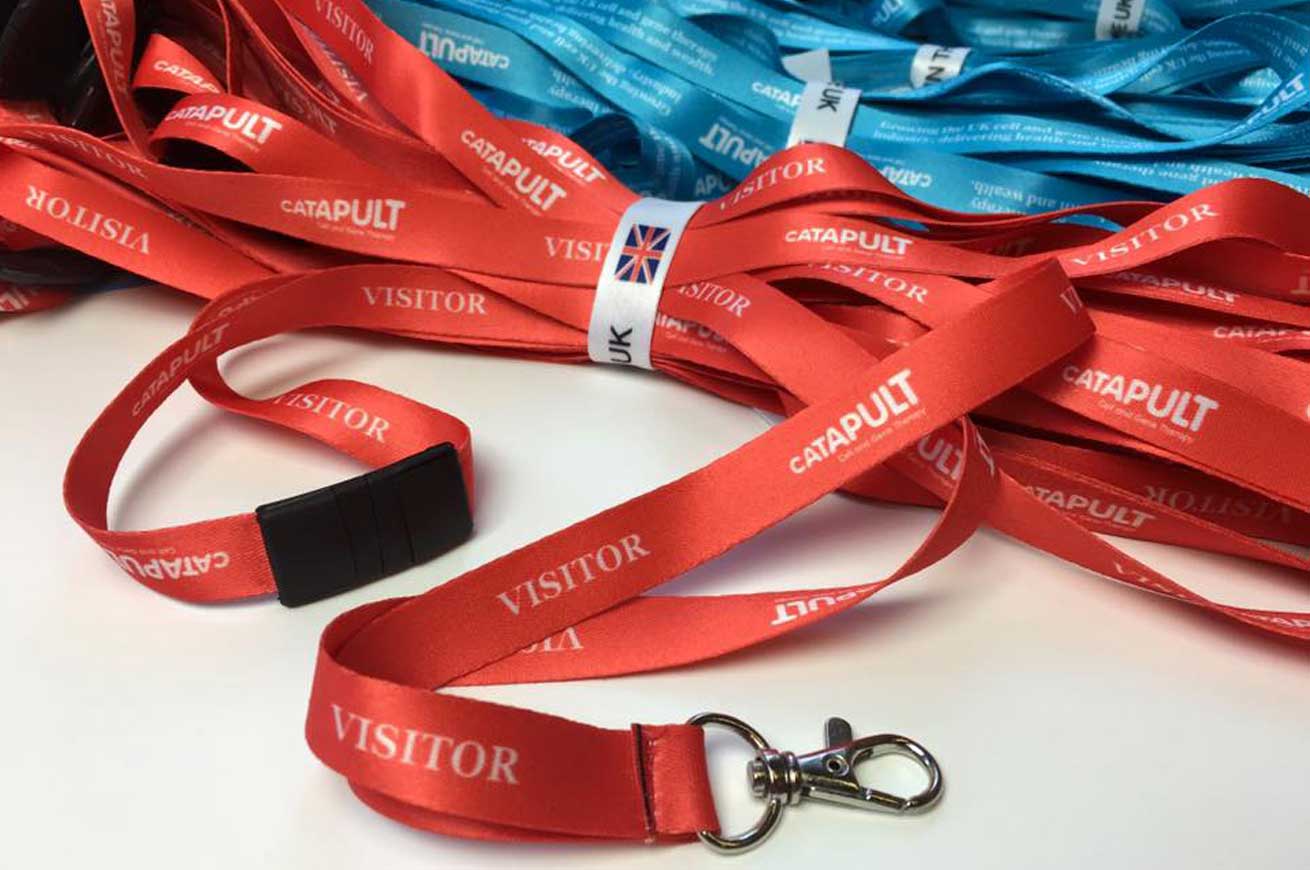 With printed lanyards your staff will always be on brand and easy to identify.
Our printed lanyards can help identify staff and visitors to you office while they work well at events and exhibitions too.
Stay on brand with printed lanyards
Our lanyards are printed on a smooth, satin finish polyester and are flexible and soft to touch. We can design and print them in full colour to ensure you stay on brand, and your logo or message is clear.
Safety first
All lanyards are fitted with a trigger clip that easily attaches to card and badge holders, we also fit quick release safety breaks as standard to meet health and safety requirements.
Once you approve the design your bespoke lanyards can be ready in as little as a few days.
Printed lanyards are suitable for
Corporate organisations
Education
Public Sector Departments
Clubs
School book bags & pencil cases make smarter students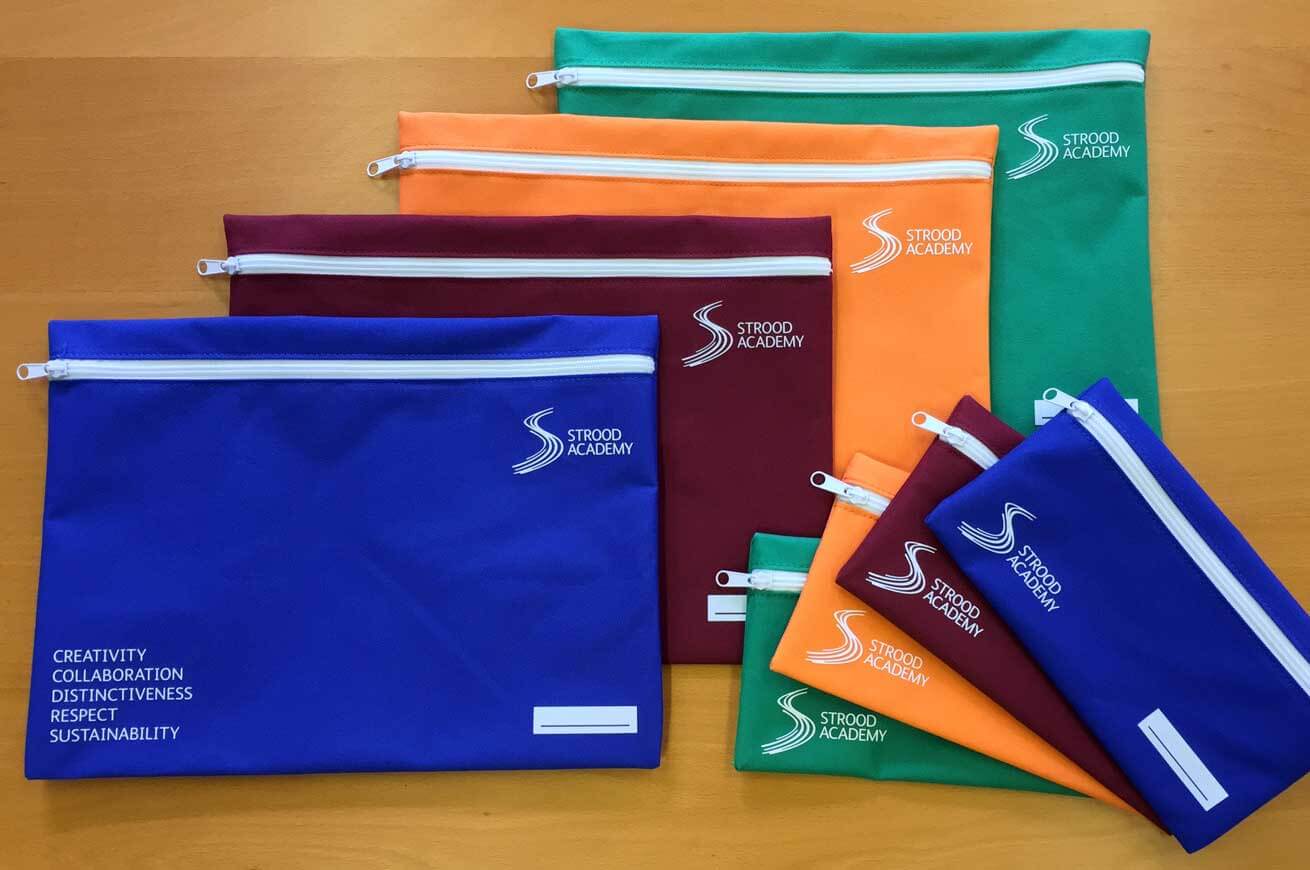 Our bespoke school book bags and pencil cases are branded with your logo and values helping underline the ethos of your school.
Smarter students
With a branded book bag and/or pencil case your students will look smarter, we also believe a little help with organisation adds to learning outcomes too.
Book bags designed for your school
Our book bags and pencil cases are bespoke. We manufacture in different sizes and colours to suit your school or academy – and we'll add features like handles, straps or name tags if you need them.
Great value for education
We know school budgets are tight. Which is why our manufacturing partner in China helps us keep costs down and supply great value products.
We can't however put a value on helping students be organised and look smarter.
Working within the education sector
Read about how we work with schools and trusts – HERE.
Make a great first impression with a great business card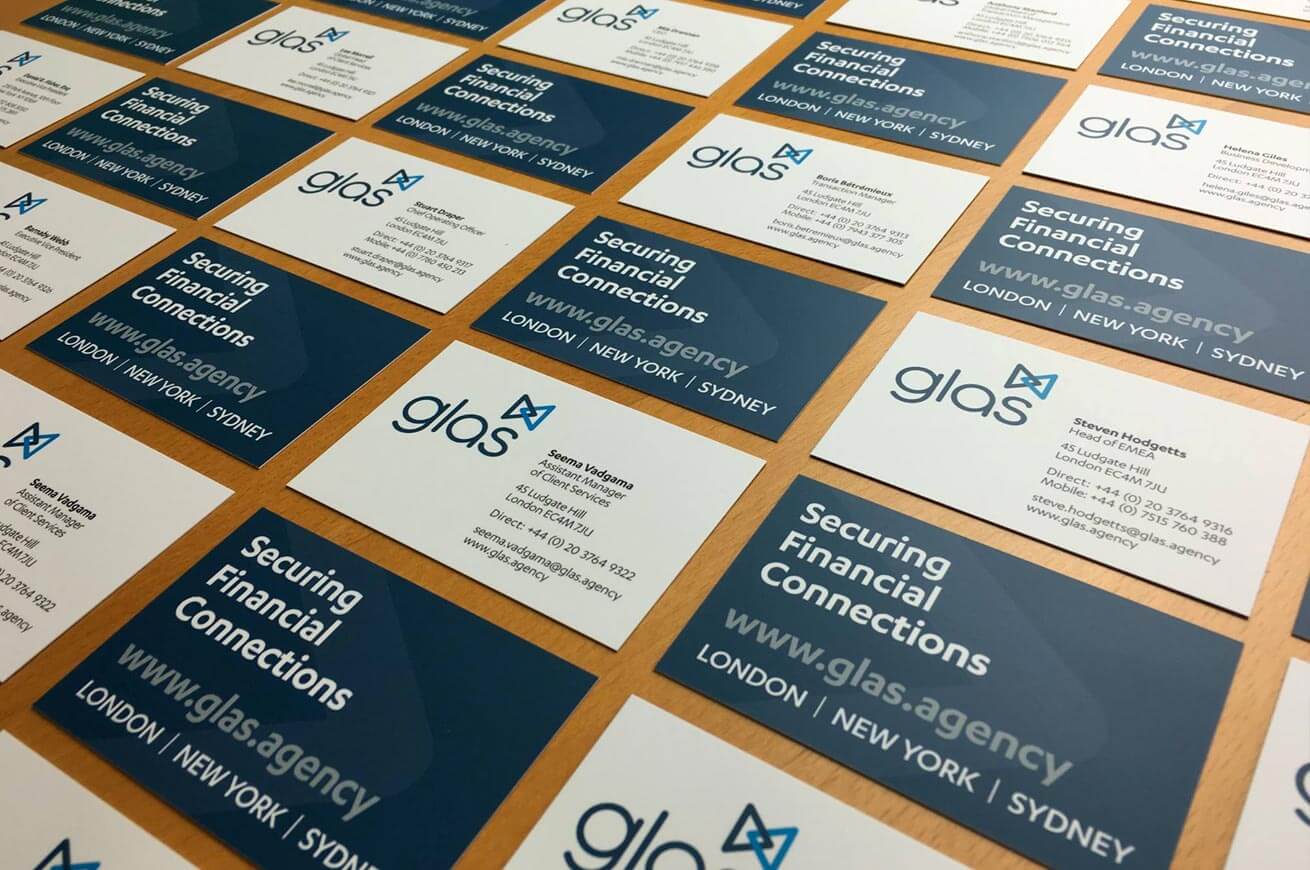 A card is still one of your most important business tools, even in a digital world. It's important that the business card design makes the right impression.
Sure you can email your contact details in a split second, but when you're meeting face-to-face your business card speaks volumes about you and the company you represent.
Good business card design works
A well designed business card will help you make that important impression. Your key information will be easy to read and clearly presented and the style of the card will showcase your company's brand.
Don't forget to consider back of the card - it can be used with great success to carry additional messages, showcase your product or repeat your information in a second language.
Quality printing
Don't compromise on quality. A well chosen crisp white board will always leave the right impression, it will hold both type and colour well making it easer to read. We often add a laminated finish to help give a tactile feel to a business card design and offer protection for the most heavy handed recipient. We're also finding soft touch finishes popular with many or to really make a mark luxury card with coloured cores.
When a business card is a necessity
In many cultures the exchange of business cards is an essential first step to establishing a business relationship.
Travel to Hong Kong or Japan, where etiquette is key, without a business card to exchange with new associates and you might as well get the next flight home. It better be in Chinese on one side as well as your own language and of course printed and finished with care – a good first impression will set the tone for the relationship.
Harwood Recruitment employs new responsive microsite
The specialist recruitment agency have employed new branding and a new microsite to strengthen their market position.
Harwood Recruitment, the market leading financial sales consultancy has gone live with their refresh brand identity with the launch of their website.
New brand appointment
The brief to create a new identity that also works as an icon evolved the candidate search theme. The favoured typography has been set and redrawn to allow for the 'O' and the magnifying glass icon to work.
The logotype is at home on screen, on stationery and signage – while on social media the magnifying glass device is used in isolation.
Responsive microsite
A fully responsive one page microsite quickly gave Harwood Recruitment the credibility they needed. Utilising the Bootstrap framework and employing the Font Awesome CSS toolkit allowed for quick, cross platform development and deployment.
LINKS
Making a stand with Wealden Rehab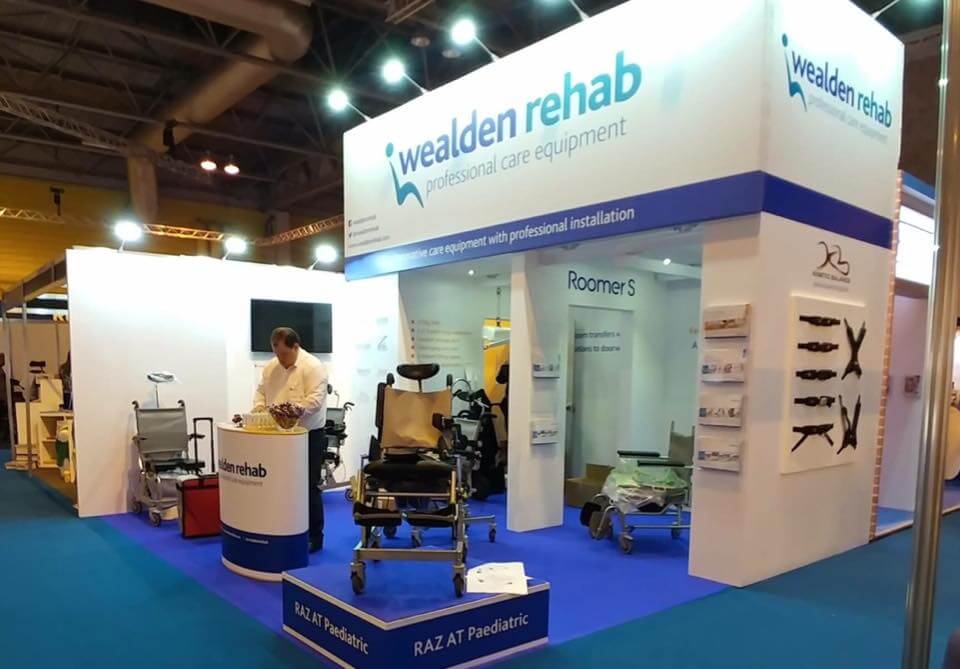 Wealden Rehab exhibited at the OT Show at the NEC in Birmingham and we made sure they made a stand.
The project started with a client brief about the care equipment Wealden Rehab wanted to take to the show. A creative platform and copywriting was then agreed and our exhibition design featuring clean white walls finished with laser cut vinyl typography and graphics took shape.
Making the best of the space
Incorporating large equipment into a tight space can be tricky but the build took full advantage of the space, including using the full height to emphasise Wealden Rehab's presence in the exhibition hall.
Star of the show!
The star of the stand (if not the show!) was the integral load-bearing ceiling and doorway that was used to showcase the 'Roomer S' a revolutionary room-to-room patient transfer hoist.
Marketing material


No client exhibition is ready for potential customers without supporting material. Our suite of care equipment brochures meant delegates left with the right information in branded bags along with giveaway Wealden Rehab pens, hand sanitiser and spring water.
To top it off the client even had complementary Krispy Kreme doughnuts for those with a sweet tooth!
LINKS
Google - shaping the future of technology in education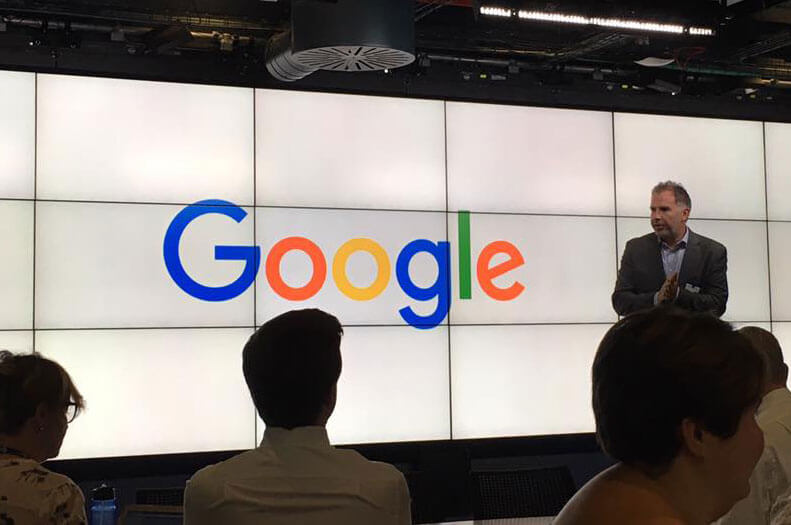 We're at Google HQ at an Inspiration Day - with our client KMT Teacher Training helping shape the future of technology in education.
Building platforms for education
Our bespoke e-portfolio helps KMT trainee teachers and their mentors keep track of progress as they work towards qualification.
KMT teacher training
KMT have been successfully training teachers since 1995 and offer routes to Qualified Teacher Status through a network of partnership schools in the South East.
LINKS
KMT Teacher Training
Google Education
Privacy manifestation that keeps on-brand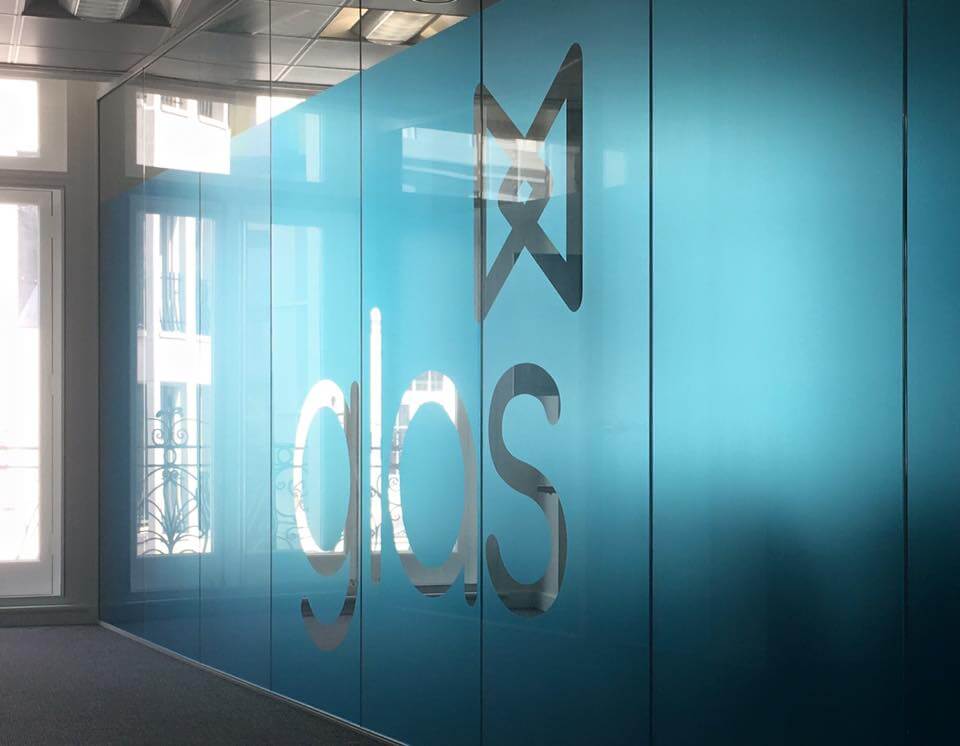 Keep on-brand with manifestation solutions that do more than just aid privacy.
Creative safety and privacy
We use manifestation in a range of finishes, colours and appearances. We also laser cut, as shown above, or print on the vinyl to create messaging and styling elements that develop your company's brand.
What is manifestation?
Manifestation is the term used to describe a vinyl film that is applied to glass windows, partitions and doors to stop people walking into the glass and often add privacy.
Make a sign with an acrylic plaque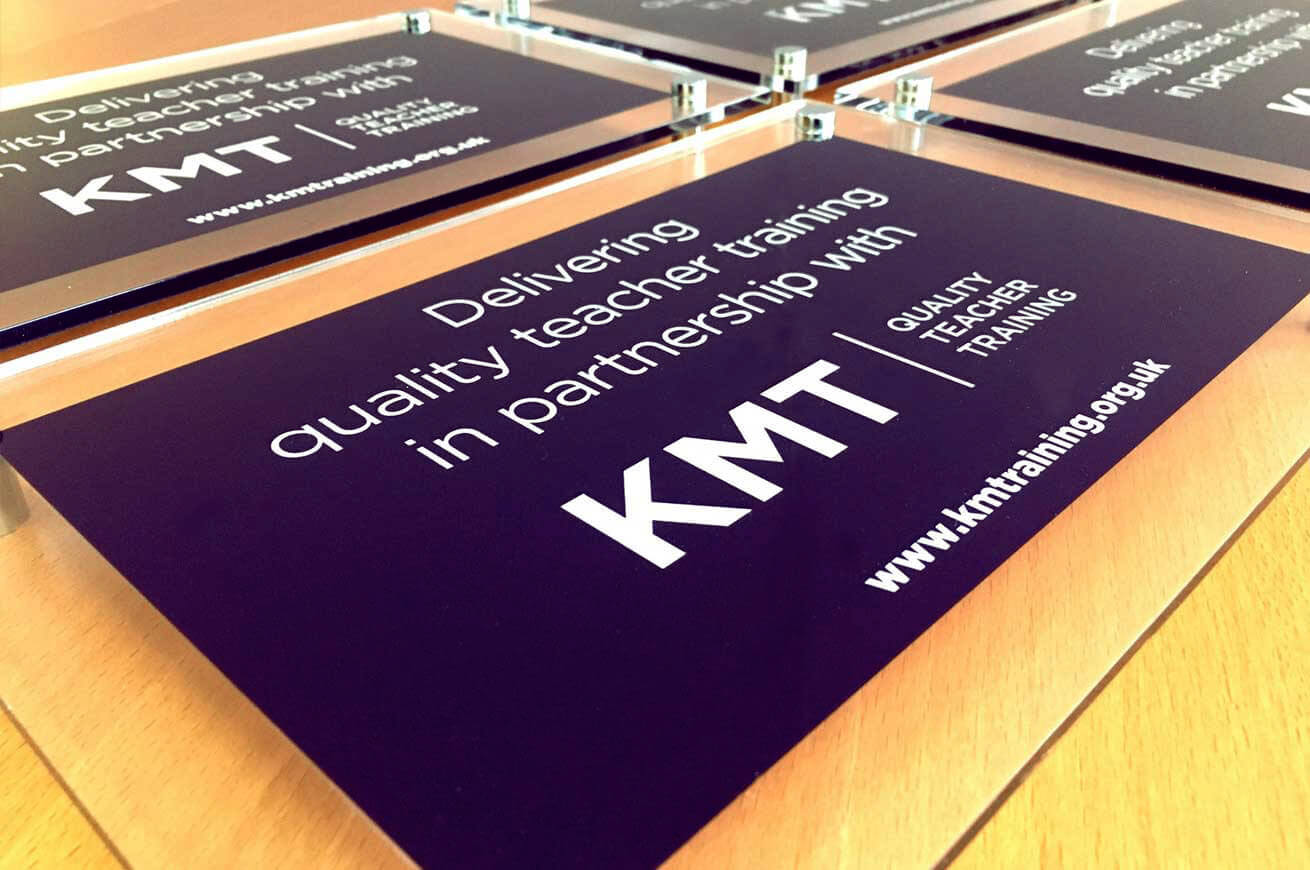 Our acrylic signs help as identification at partnership schools within the KMT teacher training network.
It must be a sign
The signs, or plaques, are made from polished acrylic printed to the rear and supplied with chrome fixings ready for use inside or outside.
KMT Teacher Training
KMT have been successfully training teachers since 1995, and offer routes to Qualified Teacher Status through a network of partnership schools in the South East.
Branding helps growth
Our branding, website and marketing platforms for KMT have helped them deliver clear, consistent messages and to grow year on year. While our bespoke e-portfolio helps trainee teachers and their mentors keep track of progress as they work towards qualification.
LINKS
Packaging design that takes the biscuit!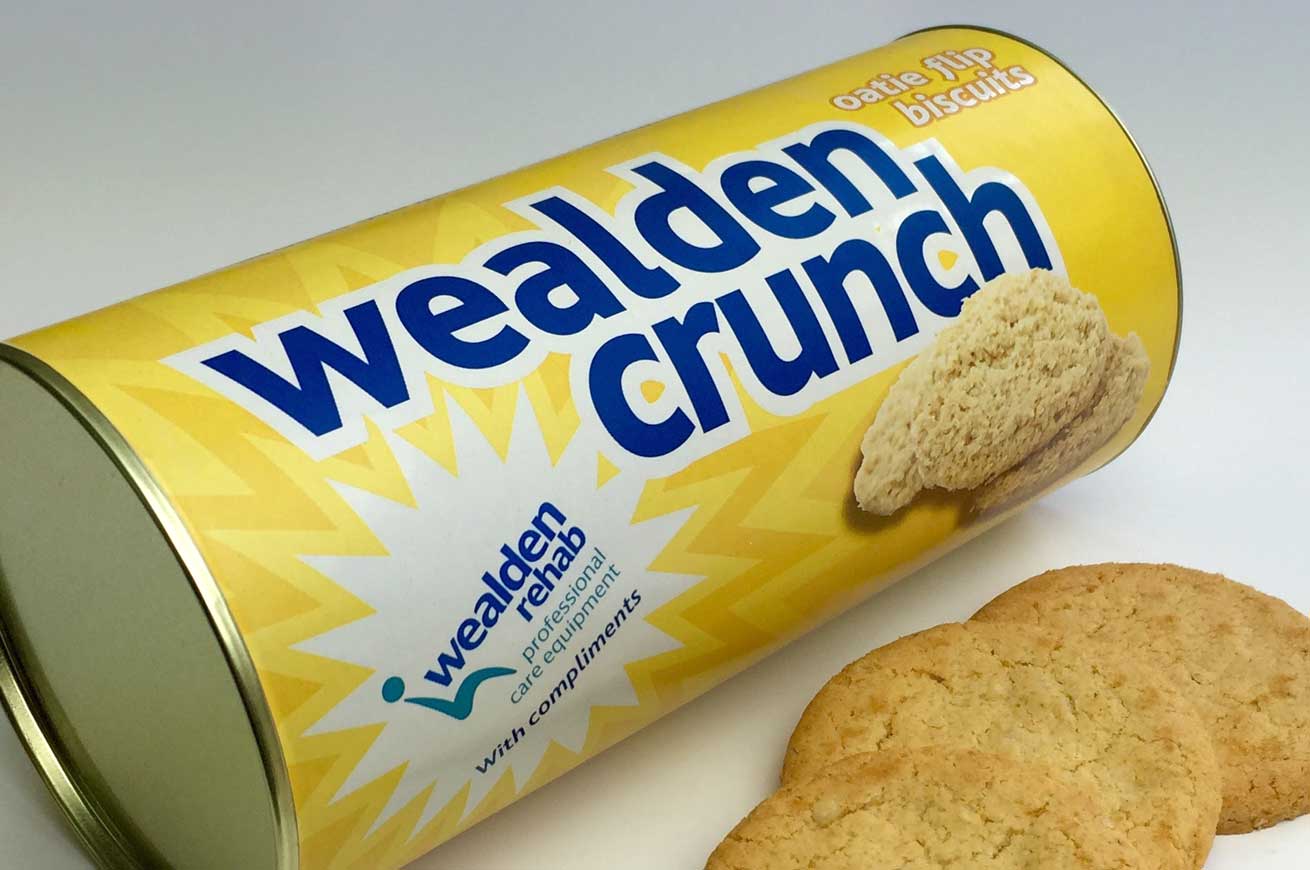 Tasty promotional packaging design. Put the kettle on and grab those biscuits, give them to your clients instead and leave your message too.
Clients love gifts and these promotional packaged biscuits are great way to say you care and leave a reminder at their desk or in the office kitchen.
Get your message on the tin
Each tin is designed around your brand identity and to reflect your marketing and messaging. We'll discuss ideas and designs before we agree a proof, start baking1 your biscuits and printing your promotional packaging design.
Tea or coffee?
That age-old question, only you can decide, but what could be a better accompaniment to that morning cuppa than a crumbly biscuit ready for dunking2.
Traditional or chocolate?
Choose a traditional baked oats biscuit or one with a thick milk chocolate coating - both are hand baked in the UK from fine ingredients.
Just don't get crumbs everywhere!

1. We're designers, not master bakers, we'll get the professionals to do the actual baking.
2. Rye Design recognise biscuit dunking is a personal choice.
Don't forget your clients this Valentine's Day with a bespoke card design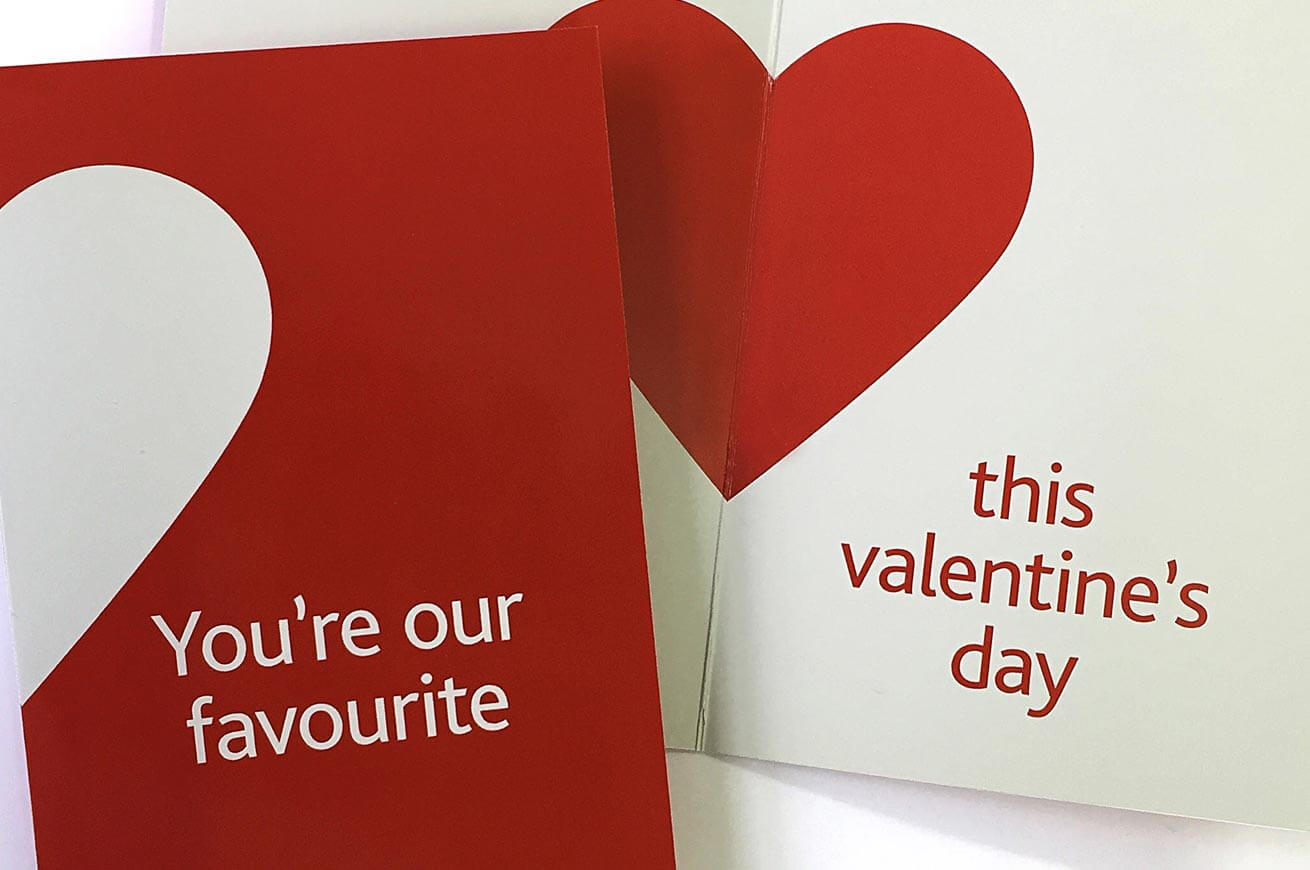 It's Valentine's Day and we're sharing the love with our bespoke card design.
If you're looking for a idea to get you clients attention give our team a call.
We'll be sure to come up with a card design and message to put a smile on your customers' faces.
Lots of Love,
Rye Design
xxx
Installation art piece works well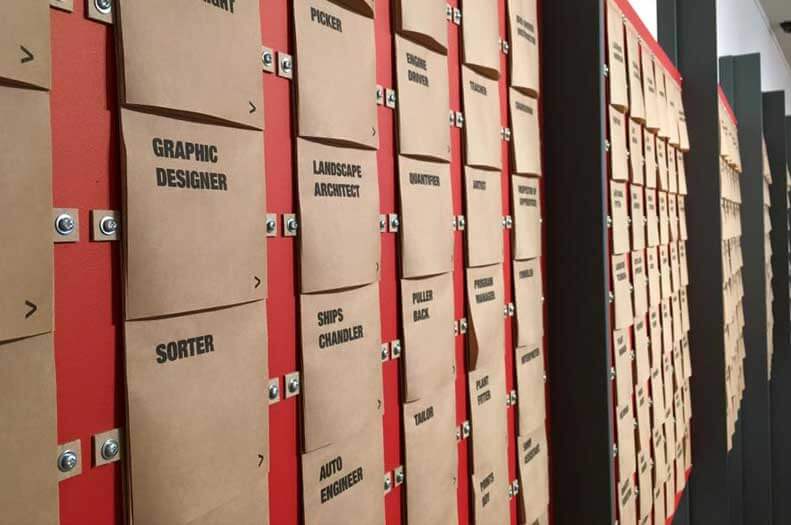 We're visiting the 'Occupation' installation by Steve Mace at the Rochester Art Gallery & Craft Case.
Guess there's a job for us if we need one.
TAKE A LOOK
Mondrian inspired graphics for Strood Academy in Medway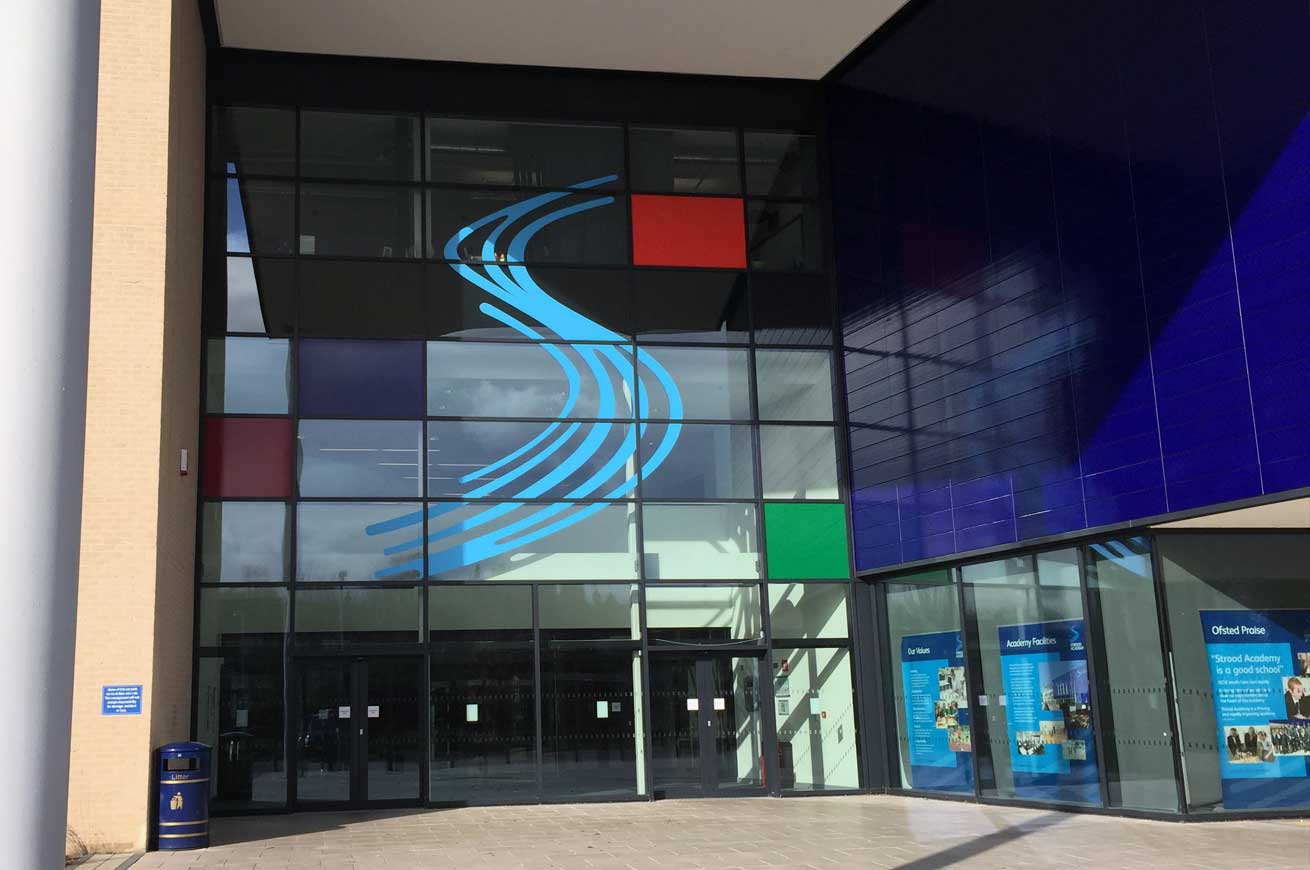 We think that if Piet Mondrian could have seen our school window graphics at the entrance to Strood Academy in South East England he would have approved.
The huge area of stark glazing at the front of the new build academy was looking a little too formal for a building full of teenagers. Our graphics feature the Academy's logo, a representation of the nearby River Medway, framed by simple colour blocks from the 4 colleges that make up Strood Academy.
New meets old
While creating a contemporary feel to the entrance of Strood Academy the installation is also nod to work of Mondrian in the 1930s and 1940s
If you don't like heights…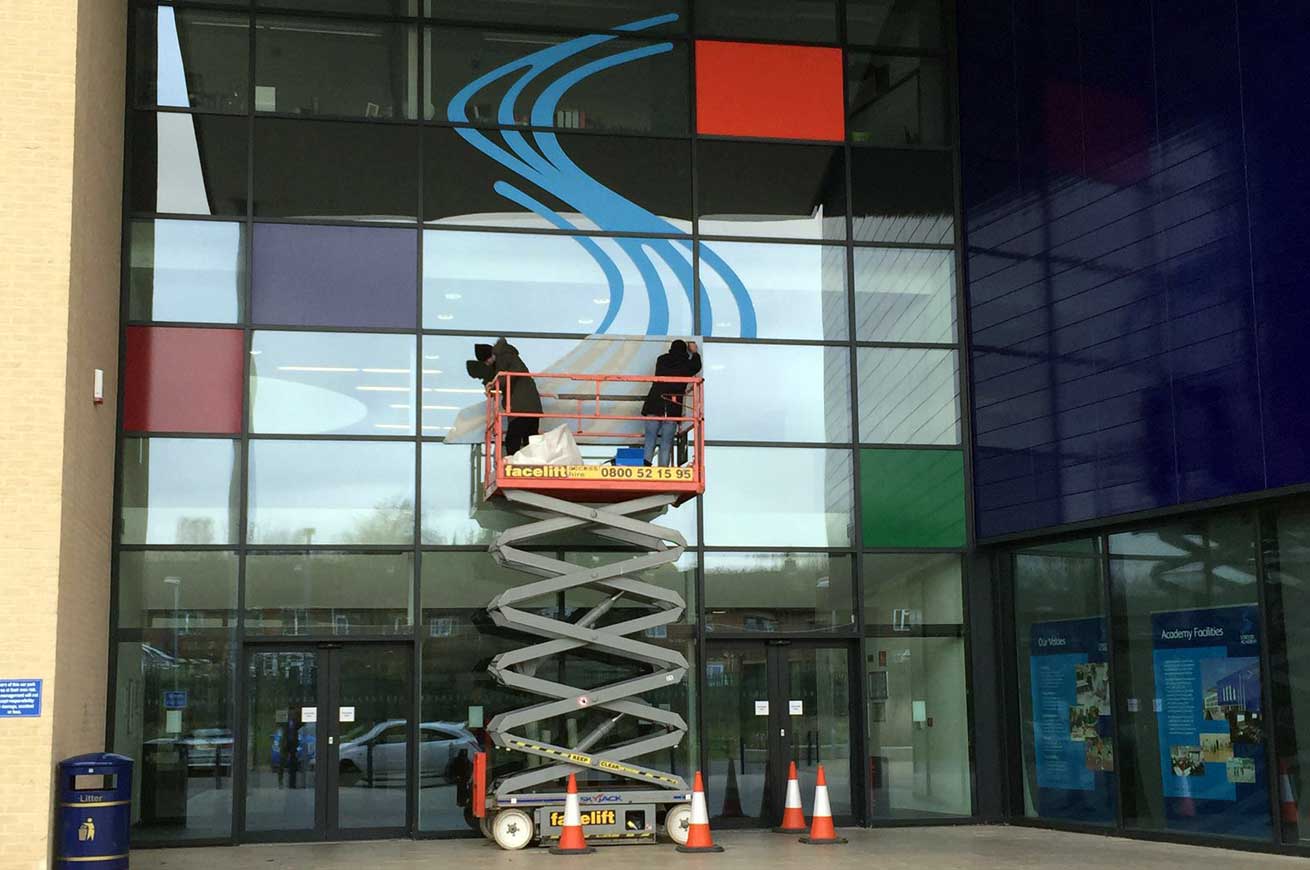 If you don't like heights look away now. It took 2 of us and a specialist scissor tower (nearly 10 meters up) to install the piece on the glazing at Strood Academy. A light fast vinyl will help the installation to stay fresh for years to come.
Working within the education sector
Our work, in the main, is a little more conservative and you can read about how we work with schools and trusts – HERE.
More school graphics
Who was Piet Mondrian?
Piet Mondrian was a Dutch painter and is regarded as one of the greatest artists of the 20th century. Mondrian was born in 1872 and is known for being one of the pioneers of 20th-century abstract art. His early works featured figurative painting but he moved to an increasingly abstract style, until he reached a point where his artistic vocabulary was reduced to simple geometric elements.
Mondrian's work had an enormous influence on 20th century art, influencing not only the course of abstract painting and numerous major styles and art movements, but also fields outside the domain of painting, such as design, architecture and fashion.
You can find out more about Piet Mondrian and see his artworks online at the Tate Gallery – click to visit The Tate Gallery.
More school design work
Creative tension @TheDrum Design Awards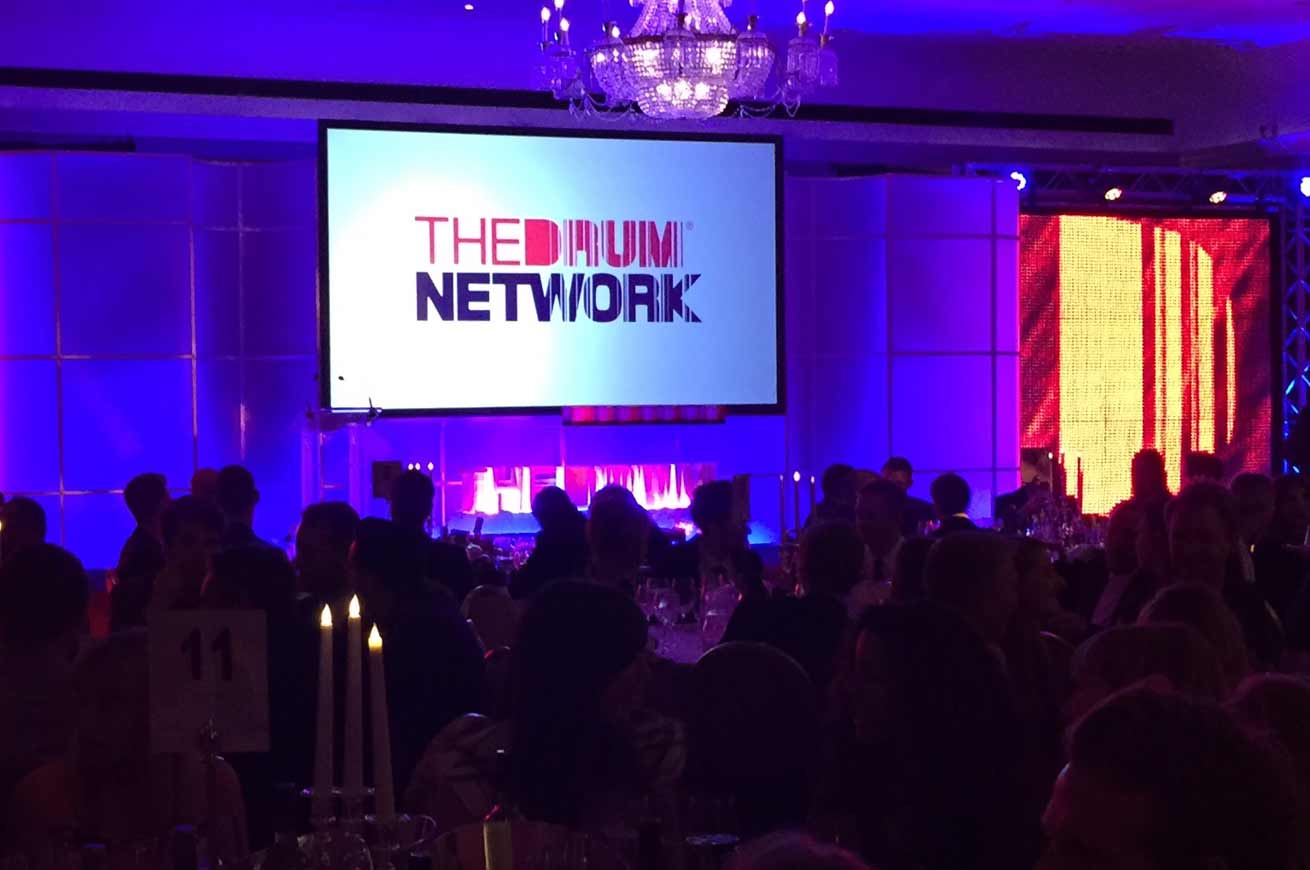 Tension mounts in the room @TheDrum Design Awards at The Marriott in London's Grosvenor Square.
We didn't make it on stage but enjoyed an evening of good conversation with other creatives, plus it was about time we dusted of those tuxedos.

LINKS