School Road Safety Campaign - Alert Today Alive Tomorrow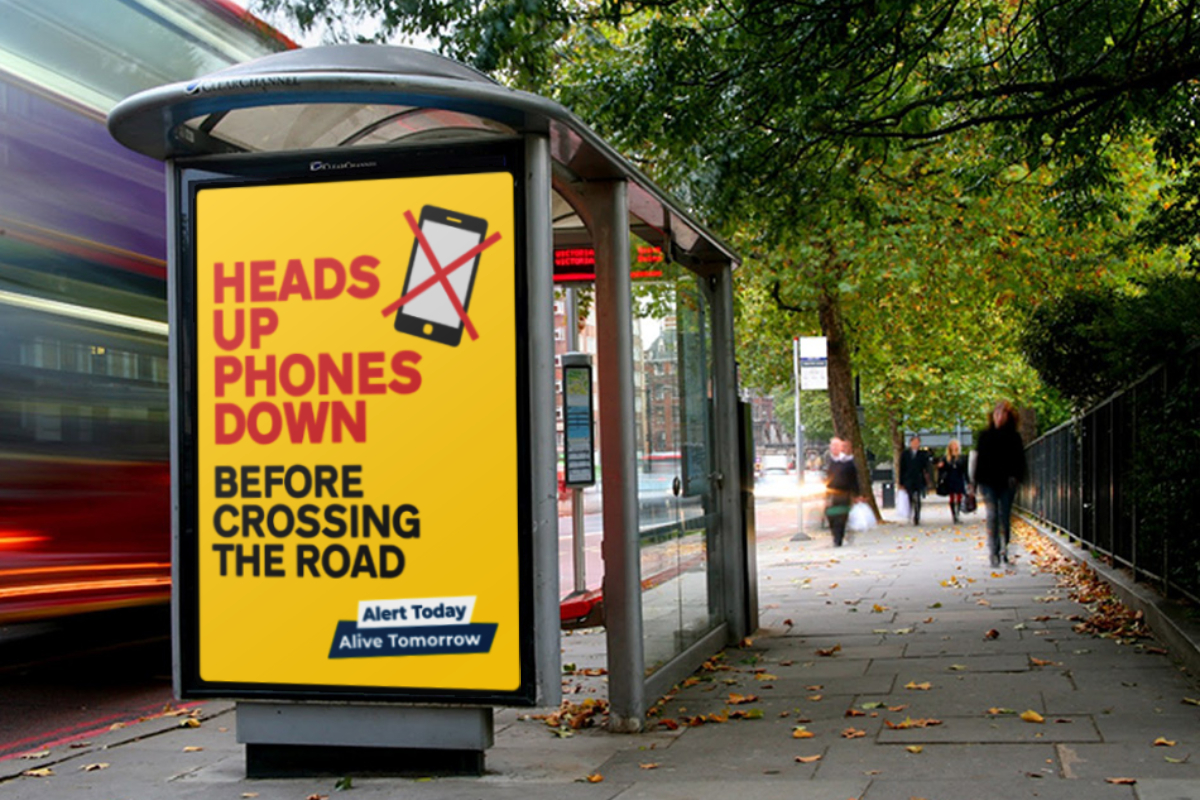 School road safety awareness campaign, centered around a series of messages and graphics to remind students to be alert to their surroundings when close to roads and vehicles- especially when using a mobile phone.
Students hit in a string of road accidents
After a series of road accidents involving vehicles striking pupils outside or close to schools officials started to look at the reasons behind the incidents. It was quickly noted that in every one of the recent incidents neither excessive vehicle speed or poor driving were to be blamed.
In all cases students had inadvertently put themselves in the path of danger, walking into the roadway without paying attention. When questioned, students' thoughts had been elsewhere and in many cases they were preoccupied by their mobile phones.
Using a mobile while walking down the street is a challenge for most adults, but reports reveal that children may be even more at risk from life-threatening distractions. Most concerning is that RoSPA's findings state that 'every month 1,200 children are injured in traffic related collisions that happen within 500m of a school', while that number includes all causes it is becoming clear that the dangers presented due to using a mobile phone while walking close to a road are on the increase.
Mobile phone use and road safety near schools
Most road safety campaigns are aimed at driver awareness, vehicle speed or pedestrian attention. Little was being done to tackle the specific dangers of students distracted by their mobile phones. It was time to take action and commission some creative thinking.
Discussions were held and a creative brief agreed. Students were put centre stage and focus groups set the task of looking at the issues and the foundations of the Alert Today Alive Tomorrow campaign was born.

Alert Today Alive Tomorrow - a new campaign
The Alert Today Alive Tomorrow campaign aims to tackle the problem by making students aware of their surroundings and to be mindful of the distraction that their phones can be.
Alert Today Alive Tomorrow is a multi level campaign. It's presented in group assemblies, discussed with students in the classroom and taken outside the school gates for a real-world look at what it means to be alert and to understand why it's important.
School road safety campaign creative
The campaign was launched with a typographic identity and supported with a series of short headlines with simple graphics that quickly announces the Alert Today Alive Tomorrow message.

The campaign runs on signposts and advertising billboards outside schools. It's also repeated on external floor graphics in the peripheral vision of mobile phone users close to roadways. Additional supporting materials are used inside school in the form of flyers, posters and more widely on social media and website.
Alert Today Alive Tomorrow - School road safety resource packs
School resource packs are available. Containing; staff and student guidance, external signs, floor graphics, posters, flyers; and sets of digital and social assets.
More information
If your school is interested in the Alert Today Alive Tomorrow campaign please get in touch by calling us on 01634 818168.
RoSPA - School Site Road Safety
You can read the RoSPA 'School Site Road Safety' guide HERE.
---
More school graphics and school signage…